Are you ready? Can you feel the excitement? I'd be lying if I didn't say that I look forward to this post all year. It's pretty much my favorite to write. Strap in, people, because it's time for Indiana State Fair food.
As always, I gathered my crew of experts. They've been coming to the state fair since they were infants. No one knows more about insane food they they do: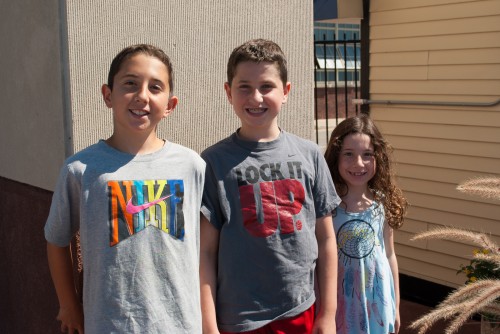 That's Jacob (11 1/2), Noah (9 1/2), and Sydney (7). Aimee (age undisclosed) asked not to be pictured, as always, so that she can later try and deny this occurred.
The fun began this year while we were still waiting to get in. This guy was right in front of me: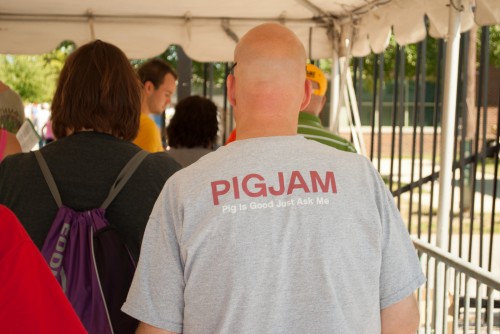 I don't know what pigjam is, but this guy was really, really into it. Unfortunately, Aimee forbid me from "asking him". Knowing the embarrassment to follow, I decided to let her have her way.
Some think the state fair is about animals, rides, or games. Fools, those people are. You can tell because before there's a chance to see one animal, ride one ride, or play one game, you are inundated with food. One of my perennial favorites was there waiting for me: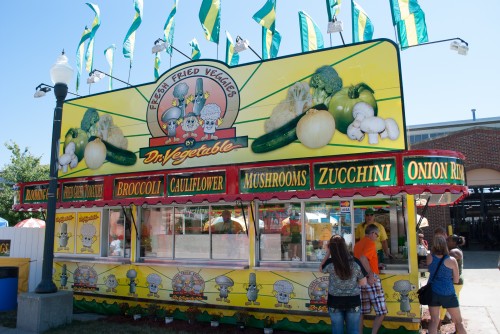 "Dr. Vegetable". Let that sink in for a second. Noah made the mistake of calling this "Mr. Vegetable", which let me go into my whole Dr. Evil routine about how Vegetable didn't go to four years of medical school, just to be called "Mister", thank you very much. This is, by the way, the most healthy thing you're going to see the whole day. Vegetables deep fried and covered in ranch dressing. I really love how all the vegetables have their hands up, as if to deny any responsibility for what's going on.
For the past few years, next to Dr. Vegetable was a fried fruit cart. That was gone. Maybe it was too healthy. This replaced it: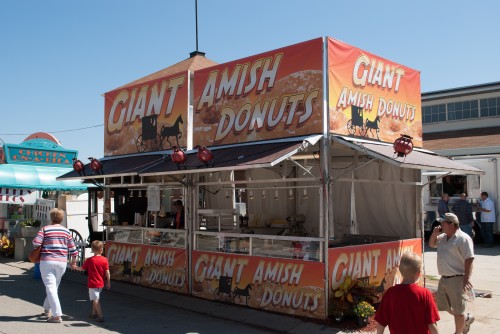 I grew up in Pennsylvania. I can tell you, if there's anything the Amish are known for, it's their insanely giant donuts. And they are giant: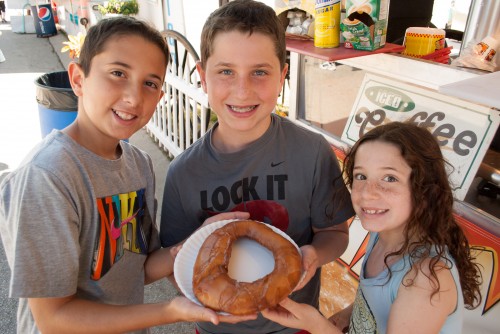 They're also hot and dense. Aimee couldn't believe we were eating that before lunch. To placate her, we promised her that the next thing would be more substantial. We weren't totally lying.
Let me orient you to "Twisted Burgers". They consider that thing on the left the "American Classic Burger". When I was in college, there was this Simpsons bit about "The Good Morning Burger". That's what I think of when I see this stand. Next to the "Classic" is the ice cream burger. Or, perhaps you'd like your burger with French Toast instead of a bun.
Or, perhaps you'd prefer a chicken sandwich served between Eggo Waffles. They also offer the "Garbage Burger" for those who think these don't have enough. And this year, there was a new addition: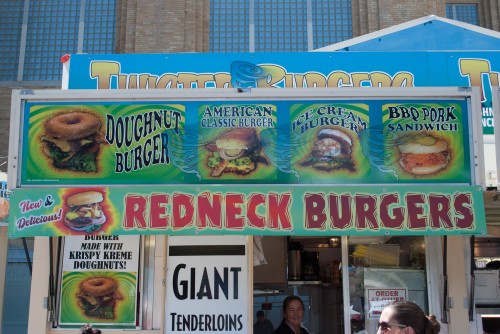 The "Redneck Burger" had a large beef patty, cheese, onions, beans, fried onions, bacon, and – of course – fried bologna. The woman there wants you to know it also includes "all the fixins". Not Fixings. Fixins. Noah was undeterred, however. He wanted his favorite. The donut burger. Here it is before we ate it: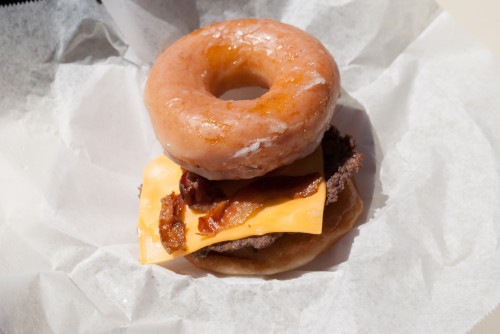 Here is Sydney crushing it: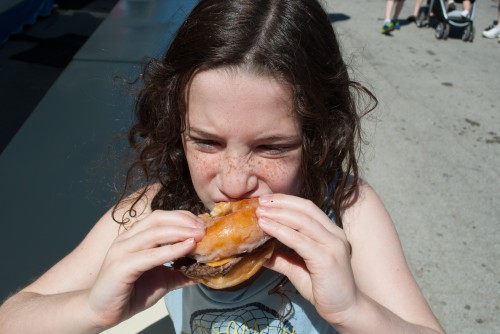 We decided to take a break from eating at this point, and ride the tractor to our usual pretend-to-be-a-farmer exhibit. On the way, we passed a popcorn stand. You might think that popcorn isn't that inventive. You haven't been to the state fair: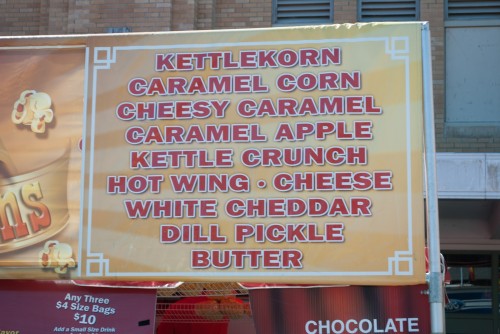 That might seem like a lot of flavors. Some of them are even strange. But what's crazy is that they couldn't fit all the options in this "limited" area, so there were more underneath: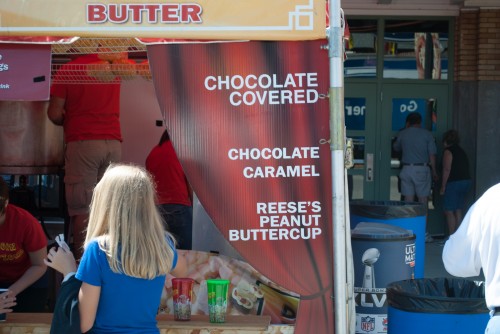 I imagine them making the sign. One cook suggested chocolate. Another added caramel. Finally, a third said screw it – just cover the stuff in Reese's.
As we boarded the tractor to drive us around the fair, I saw this offensive sight.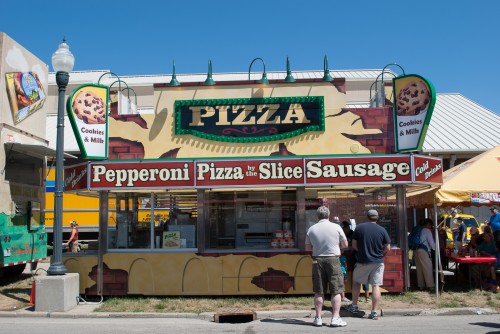 Pizza. Just… pizza. Do you think we're impressed by your pepperoni? By your sausage? Are you kidding us? Dessert is "cookies and milk"? DON'T WASTE OUR TIME. I can get this crap in the real world. Those people on the right are only asking for directions, by the way. No self-respecting Hoosier would frequent this sad excuse for a fair food distributor. They should take a lesson from this: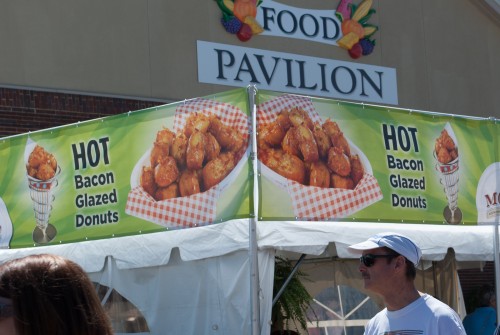 Hot bacon glazed donuts. Enough said.
This is a picture of my kids with Miss Vermillion County 2013, and the 2nd runner up. I was afraid to ask what happened to the 1st runner up.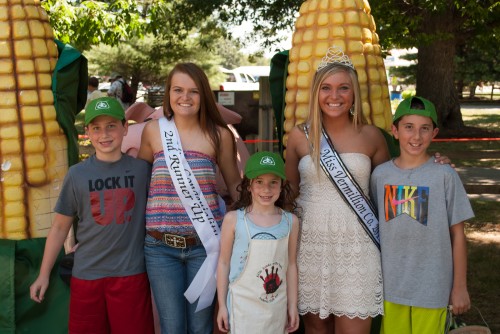 And this is a picture of Miss Gibson County 2013. Wearing a "Dewig Meats" shirt. Ordering a Donut Burger.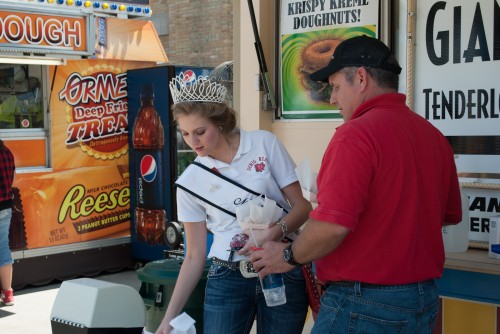 Only in Indiana.
After that was a personal favorite, the giant tater: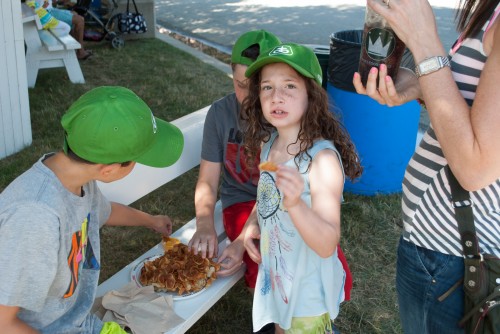 This year, the guys were kind enough to let me document the whole process. First they shave the potato into one long loop: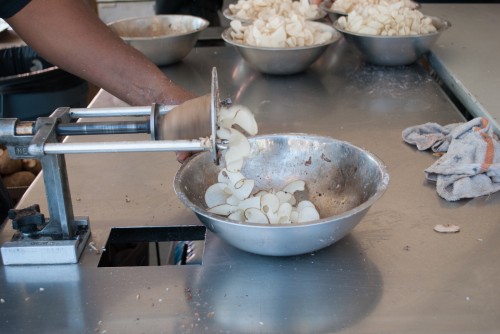 Then they drop it into a deep fryer: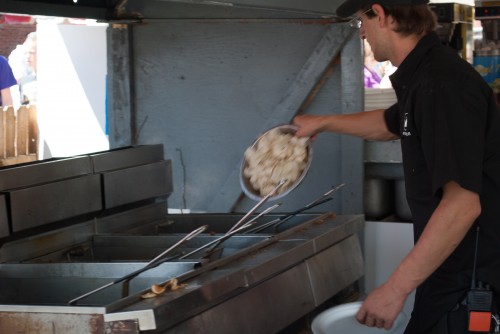 Then they drain it. You can't imagine how much fat is involved:
Top it with nacho cheese, ranch dressing, and ketchup, and you're ready to go. Oh – don't forget to take Omeprazole at home beforehand.
Aimee was pleased to see more ethnic foods this year. Like the "Nacholupa":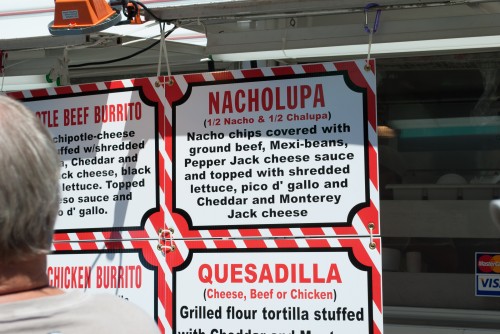 Also, there were some INSANELY large corn dogs: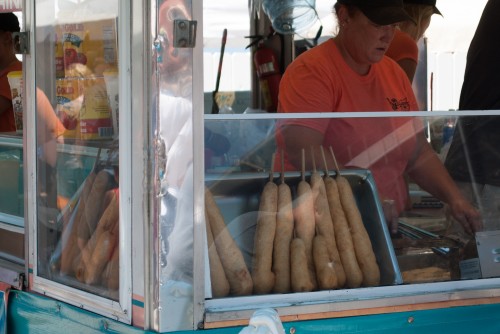 We also walked past state-fair-staple Spaghetti Eddie's. You may remember in years past his "pizza balls" and "dirt". He didn't disappoint this year either:
He took meatballs and cheese parmagan (what is that?), and put them on a stick. They he dipped them in a garlic batter mix, deep fried it, and served it with not one, but two dipping sauces. If that doesn't strike your fancy, then maybe you'd rather have it with pepperoni:
Quick – what's this?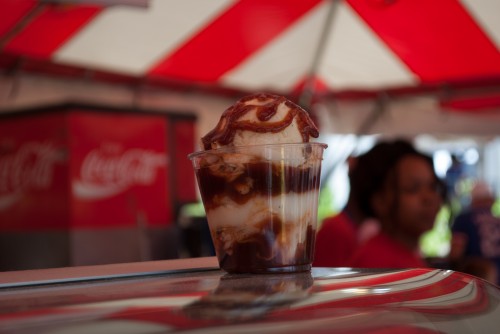 Give up? That's a chicken parfait. Seriously. It also comes in lamb: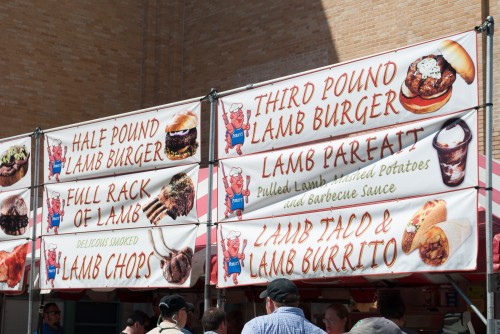 You can get your lamb about a dozen other ways, too.
Here's a crazy amount of Renaissance-style turkey legs: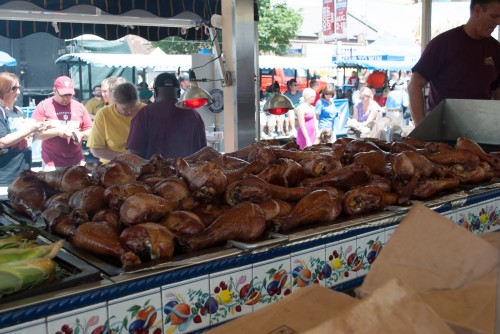 I'm sure you're now as ready for dessert as were were. To the deep fried candy cart! THIS is how you do a candy cart: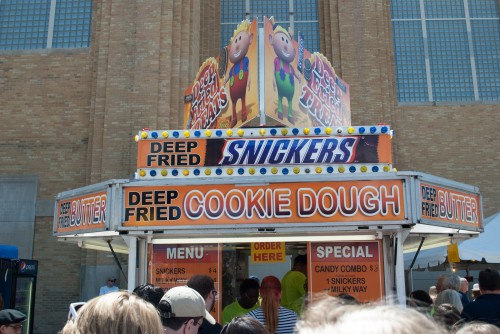 Next to it was a sorry excuse for competition: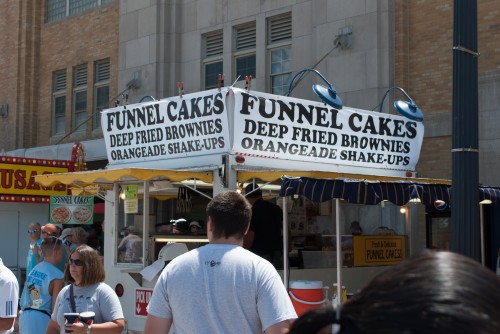 Sure, deep fried brownies sound good. But when you're competing with the "Candy Combo" of a deep fried snickers, a deep fried Reese's, two deep fried oreos, and an add-on deep fried cookie dough, you've got to bring your A-game. Here it is: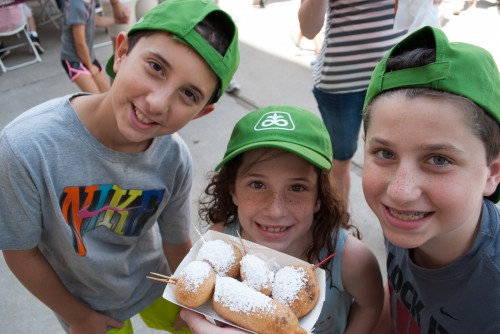 This is Jacob's favorite, by the way. He pretty much ate an Oreo on his own.
Can I pause here for a second? I fear how jaded we've become. A candy bar coated in batter and deep fried is no longer "exciting". It's "expected". It's "mundane". It's seriously disturbing me. Time to go. After a funnel cake, or course: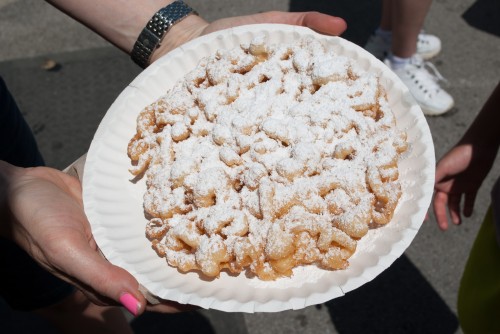 It makes me cry a little inside to know how quickly we devoured this.
A few things of note on the way out: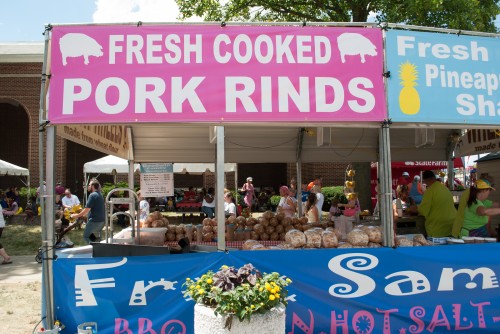 Is anyone seriously worried that the pork rinds were NOT freshly cooked? I don't even know how you'd determine if a pork rind was fresh.
I love how the state fair can take something that borders on healthy, like a sweet potato, and basically turn it into diabetes-on-a-plate: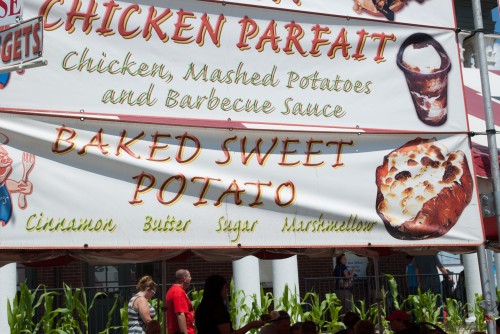 And you've got to respect this shockingly truthful advertising: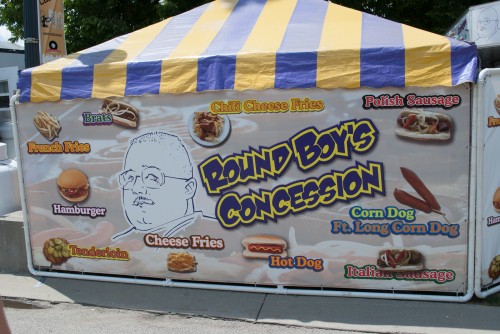 We eat this so you don't have to. That's how much we love you.
See you in 2014!