This is a guest post by David Anderson, a research associate at the Duke-Robert J. Margolis, MD, Center for Health Policy. You can follow him on Twitter at @bjdickmayhew and read his other work at the Balloon Juice blog. 
In 2020 and beyond, under the Senate's BCRA, the working poor will have a very hard time finding primary care providers (PCP) who will schedule appointments with them. Providers, rightly, fear bad debt from high deductible plans. They will discriminate on the ability to pay upfront.
In the NEJM, Karin Rhodes, Genevieve Kenney, and Ari Friedman† looked at PCP appointment availability in the from the end of 2012 to Spring 2013. They found that appointments were usually quickly available if the person had insurance and unavailable if they were cash paying patients who could not afford the median price of services.**
The overall rate of new patient appointments for the uninsured was 78.8% with full cash payment at the time of the appointment (Figure 2). The median cost of a new patient primary care visit was $120, but costs varied across the states, as indicated in the figure legend. Only 15.4% of uninsured callers received an appointment that required payment of $75 or less at the time of the visit, because few offices had low-cost appointments and only one-fifth of practices allowed flexible payment arrangements for uninsured patients.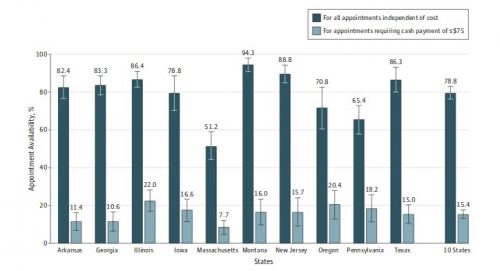 Why does this matter in the BCRA environment?
The baseline plan will be a plan with a $7,500 deductible for a single person. For people with means, paying $120 for a PCP visit is unpleasant but not onerous. If I had to do that this afternoon, I would grumble as I pull out a credit card. I would pay that credit card off tomorrow after I got the transaction points. Not everyone can do that.
Craig Garthwaite raises a good point this morning: