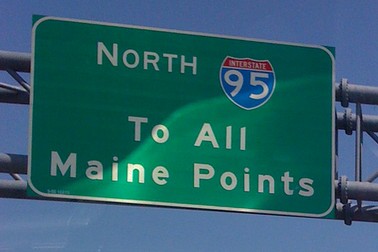 It really wasn't hard to ignore email for a week. And yes, I made it a full week. I could have easily gone longer, but my vacation ended and email is integral to how I earn a living and manage my life. (What many commenters didn't count on is that I made my intention public. No way I'm going to back down from a personal challenge that I post online.)
The first day offline was the only slightly challenging one. My hands, so accustomed to going to my phone at every spare moment felt oddly idle. I felt twitchy. I helped myself out by turning off all notifications. No chimes. No vibration. Since I had little need for my phone, I kept it off and/or out of my possession for long stretches.
Then the hiking, ice cream eating, playing with my kids, and book reading began. The internet just faded away.
My wife and I summitted five peaks on Mt. Desert Island and environs, two with our kids, the youngest only five years old. She and her sister did it with very little complaint. They actually enjoyed it. This was a major accomplishment.
I read Man on Wire and This Is Ragtime. I had seen the former as a movie and enjoyed the extra detail provided in the book.
Scanning the news on return and catching bits while on vacation, it seems to me the most important health policy stories of the week were (1) the CBO score of the ACA, updated to reflect the Supreme Court's decision and (2) the Medicaid/mortality study by Sommers, Baicker, and Epstein. The rest seemed like noise, but I could be wrong.
What else did you think was important and relevant to health policy this past week?
Photo credit: jpwbee
UPDATE: I think this is an important story: GOP Says Coverage For The Uninsured Is No Longer The Priority.