From Amy Abernethy et al., "Rapid-Learning System for Cancer Care":
The health care system "learns" by routinely and iteratively (1) collecting data in a planned and strategic manner; (2) analyzing captured data; (3) generating evidence through retrospective analysis of existing data as well as data from prospective studies; (4) implementing new insights into subsequent clinical care; (5) evaluating outcomes of changes in clinical practice; and (6) generating new hypotheses for investigation (Fig 1).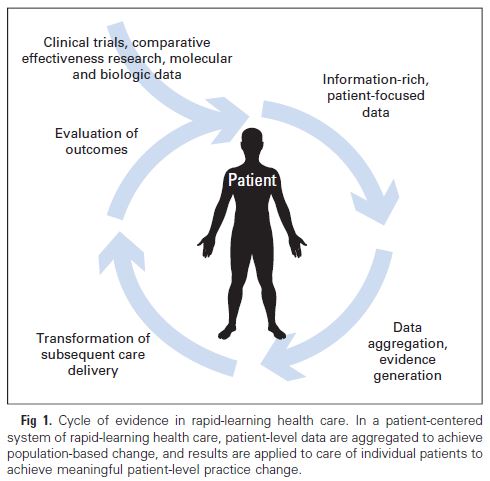 Sound potential for creating a rapid-learning cancer care system already exists; multiple building blocks are currently available, in developmental or early implementation stages. [… For example, t]he Veterans Health Administration, functioning as a large-scale delivery system, has been a leading innovator in creating a computerized data capture and analysis system. […] What we face is not an unexplored terra incognita, but rather a challenge of how to best employ new computerized data technologies to enhance research coordination, collaboration, and information exchange. Insights are being generated from several initiatives.
More about the learning health care system here.