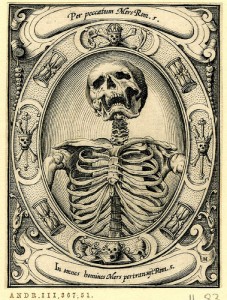 I have two stories about dire illness and family support during illness. They lead to a recommendation about how the health care system should engage with families.
First: The world is built with trapdoors that open randomly and take you suddenly to hell. Arnold Relman tells this story. He is 90 years old and a former editor of the NEJM.
I was hurrying down the stairs to meet a cab… I lost my balance and pitched forward, landing hard on my head on the slate floor of the hall. I heard a loud crack as my head hit the floor, and although I did not lose consciousness and felt very little pain, I knew at once that I must have sustained severe injuries.
Relman had broken three cervical vertebrae and was instantly in a fight for his life. Taken to the Massachusetts General Hospital, he experienced cardiac arrests and resuscitations which, as often happens, broke his ribs. Relman was breathing only through a tube inserted during an emergency tracheostomy, with mechanical ventilation moving his shattered ribs.
I was constantly struggling to breathe through the emergency tracheostomy, and could not rest. It seemed as if I were trying to breathe through a narrow straw. Also, I was frequently choking on blood and secretions that accumulated in my throat and in the tracheal tube. Adding to my misery were the constraints imposed by the rigid collar around my neck and all the catheters and tubes to which I was attached.
Some people think that we should not speak of 'fighting' against illness. In one of the extraordinary essays written as he was dying from cancer, Christopher Hitchens argued that fighting against cancer is one of
the most appealing clichés in our language… People don't have cancer: they are reported to be battling cancer… Allow me to inform you, though, that when you sit in a room with a set of other finalists, and kindly people bring a huge transparent bag of poison and plug it into your arm, and you either read or don't read a book while the venom sack gradually empties itself into your system, the image of the ardent soldier or revolutionary is the very last one that will occur to you. You feel swamped with passivity and impotence: dissolving in powerlessness like a sugar lump in water.
Hitchens may have experienced his treatment passively, but not Relman. Relman faced a terrible choice. He was in excruciating pain from his shattered vertebrae and the treatments they required. He could take high doses of pain and sleeping medicines. But he knew that these drugs would suppress his respiration and greatly increase his risk of developing pneumonia, an imminent threat to a severely injured 90 year old. So he minimized these medications, which meant that he would be in agony, including long sleepless hours at night. This is fighting for one's life.
What he needed in this fight was human contact. He was able to communicate only by writing notes.
…looking over those notes, which my wife saved, I can see that constantly scribbling messages, many of which were of no conceivable importance, was my desperate attempt to maintain contact with the world.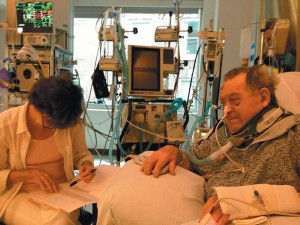 And he had his family (the picture is of Relman in the ICU, with his wife, Dr. Marcia Angell).
Even in the best of hospitals, with the best of medical and nursing care, the ICU can be a devastating psychological experience for patients—as it was for me. Totally helpless, deprived of control over one's body, ICU patients desperately need the comforting presence of family and loved ones… For their part, my family were at my bedside as much as possible. My wife was especially comforting and stayed long hours with me.
Relman's survival seems miraculous; he rightly credits the ICU specialists and his family.
Sharing Relman's essay with colleagues, I have heard many harrowing stories of families seeking to care for loved ones. Unfortunately, some of these stories included conflicts with hospital staff, like this one reported by Louise Aronson.
Aronson had brought her father, recently discharged following a triple bypass, back to the hospital following a precipitous drop in blood pressure at home. Then, in the hospital,
my father's blood pressure dropped again. I told the nurse and stayed out of the way. She silenced the alarm, upped the fluids, and rechecked the blood pressure. It was better. But less than half an hour later, we listened as the [pressure dropped again]. The numbers flashed, but the silenced alarm remained quiet. I pressed the call button, and when the nurse arrived I asked her to call for the doctor. When no one came, I went to the nursing station and made my case to the assembled doctors and nurses. They were polite, but their unspoken message was that they were working hard, my father wasn't their only patient, and they had appropriately prioritized their tasks.
Aronson, however, is herself a physician. When the pressure drops again, she thinks to do a rectal exam. Her father's bowel is full of blood: his blood pressure was dropping because he was hemorrhaging.
I took my bloody gloved finger out into the hallway to prove my point… A nurse followed me back into my father's room, saw my panicked mother holding a bedpan overflowing with blood and clots, and called for help. Within seconds, the room filled, and minutes later, when the ICU team showed up, I stood back, a daughter again.
She reflects on how doctors and staff sometimes understand patients' families.
When we call patients and families "good," or at least spare them the "difficult" label, we are noting and rewarding acquiescence. Too often, this "good" means you agree with me and you don't bother me and you let me be in charge of what happens and when. Such a definition runs counter to what we know about truly good care as a collaborative process. From the history that so often generates the diagnosis to the treatment that is the basis of care or cure, active participation of patients and families is essential to optimal outcomes. [emphasis added]
One of our themes at TIE is that health insurance reform is not enough. Health care reform requires changing how we deliver health care. Even in the ICU, families deliver essential care. I'm convinced that one of the most important changes that we can make is engaging families in care. And not just when they show up at the hospital or clinic. Are you trying to understand your readmission rates (did you ask families why the patient came back?)? Are you trying to reorganize the triage procedure at your ER (did you ask families how the procedure could best serve them?)? Families can be trouble, but they are not going away. Consider including them at the table.