Kaiser Family Foundation has a useful Data Spotlight on Special Needs Plans (Sept 2011), a subset of Medicare Advantage plans that cover dual eligibles (Medicare and Medicaid), persons living in institutions like nursing homes, and individuals suffering from chronic, disabling conditions such as congestive heart failure.
Such plans have provided increased opportunities for high need/high cost Medicare beneficiaries to have private insurance options in lieu of traditional Medicare. I am going to do several posts focusing on dual eligibles and Special Needs Plans (SNP): enrollment, concentration of beneficiaries across plans, evidence that SNPs could reduce costs and/or improve quality, and questions about setting premiums and risk adjustment, following on recent posts on efforts to reduce cost and increase the quality of care for the duals. There are two polar opposite approaches to dealing with the care of the dual eligibles: federalizing Medicaid, and moving them into private plans. Of course a hybrid approach is most likely, and interest is reforming the care of dual eligibles and evaluation of same is likely to remain a high priority.
SNPs were enabled by the Medicare Modernization Act of 2003, and beneficiary enrollment of dual eligibles in SNPs has risen steadily in spite of a decline in the number of plans offered after 2008.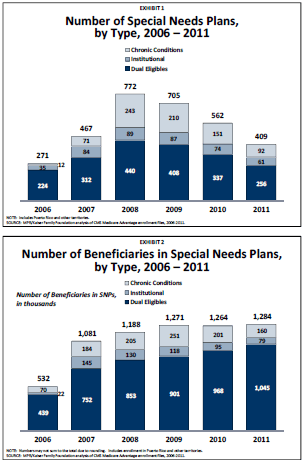 After peaking in 2008, the number of SNPs has declined since; SNPs serving dual eligibles have always been the most common plan type, but they too have declined since 2008
The number of beneficiaries in dual eligible-SNPs has increased, even as plans have declined
The number of beneficiaries in institutional and chronic disease SNPs have declined along with the number of such plans offered
Patients in all SNPs are concentrated in a relatively small number of insurance firms/plans; 12% of the firms offering SNPs now enroll 83% of such patients
Around 11% of all dual eligibles are enrolled in dual eligible SNPs, but rates vary tremendously across the nation; no Medicare beneficiaries are enrolled in SNPs of any type in 8 states. There are many questions that need to be answered to determine the potential for such plans to improve quality of care while addressing the very large costs of caring for the dual eligibles and the body of evidence should make us skeptical about the ability of SNPs to reduce costs as compared to FFS Medicare. However, dual eligibles typically have large Medicaid costs as well, and substantial long term care needs that may be unmet, particularly for duals living in the community. A holistic assessment of costs and quality is needed. Answering these inter-related questions is a top priority since over 1 million dual eligibles are now enrolled in dual-SNPs, and cost and quality problems abound in how they are cared for now.
*********
Marsha Gold, Gretchen Jacobson, Anthony Damico and Tricia Neuman. Special Needs Plans: Availability and Enrollment, Kaiser Family Foundation Program on Medicare Policy. h/t and thanks to Adam Coyne and Amy Berrige of Mathematica Policy Research for providing me with this brief and other information on SNPs.