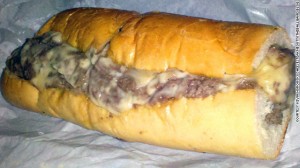 I know that I spend a lot of time here talking about obesity, nutrition, and food that is horrifically bad for you, but even I have my kryptonite. It's a cheesesteak.
I was born and raised in Philadelphia, so I take my cheesesteaks seriously. And while those of us who know better let you outsiders eat Cheez-Whiz laden monstrosities from Pat's and Geno's, we keep the real gold to ourselves. As long as I can remember, we'd go to Mama's.
I can still remember my father taking me there as a kid. He used to tell me about when he used to go when he was younger. And the smell! Oh my god, it was like you died and went to heaven.
My wife is a pretty healthy eater. But I once caught her and my Dad, cleaning up after a Mama's meal, holed up in the kitchen snarfling down the leftovers like pigs at the trough.
Whenever I am in Philadelphia, I go there. When I'm on business in neighboring states, I go there. If someone I know goes to Philadelphia, I ask them to go there and bring me back a cheesesteak. Once, for my birthday, my wife had Mama's dry ice ship us a load of cheesesteaks. They are so kick ass that the store is only open four days a week.
Yesterday, my brother sent me a link to a story where Matt Sloane, a CNN medical producer, brings the goods:
As a Philly-area native, nothing offends me more than a bad cheesesteak – and there are a lot of bad cheesesteaks out there. So, having been a connoisseur for almost 30 years, I've learned a thing or two about what makes them amazing.

Let me be clear about something: there are steak and cheese sandwiches, and there are cheesesteaks. They are not the same thing.

Restaurants, take notice. If you call it a cheesesteak, it had better be greasy, cheesy, and chopped up. If there are chunks of steak, brie, or horseradish sauce, it's a steak and cheese sandwich.
And then he goes and breaks the code of silence:
In my opinion at least, Cheez Whiz does not a good cheesesteak make. Whiz is for nachos and tourists who want to try Philly cheesesteaks in the airport.

It's no secret that the two most famous Philly cheesesteak places – Geno's Steaks and Pat's King of Steaks, located directly across from each other in South Philly – both offer Whiz. But just because you can, doesn't mean you should. They also offer provolone and American too, in all fairness.
But I'll forgive him, because he obviously knows his stuff (emphasis mine):
The steak is critical. Paul Castellucci, owner of Mama's Pizzeria in Bala Cynwyd, Pennsylvania (my personal favorite) says keep your cut of meat lean, and thinly sliced…
Paul even reveals that they will fedex you cheesesteaks if you so desire. Take him up on it. I swear, you won't be disappointed. When you order it, ask for a cheesesteak with "sauce". Don't ask what the sauce is; I have no idea. It's not quite tomato sauce, and it's not quite ketchup, but it's awesome. If you're grateful, have him ship one to me, too.
UPDATE: A follow-up post with your questions answered is here.