I'm finding myself addressing nutrition and obesity more and more often these days. How timely, then, that the Center for Science in the Public Interest released their Xtreme Eating Awards yesterday.  Some highlights:

Top prize goes to the "Gotta Have It" sized PB&C shake at Cold Stone Creamery. It sounds innocent, with chocolate ice cream, milk, and peanut butter, but at 2,010 calories, it has enough saturated fat to cover you for half a week. If you're not feeling up to consuming an entire day's calories in one drink, you can get the shake in the small size for "only" 1280 calories.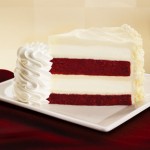 Next prize goes to The Cheesecake Factory's Ultimate Red Velvet Cake Cheesecake. One "slice" (weighing about 3/4 of a pound) has 1,540 calories and 59 grams of saturated fat, which is "only" three days worth. If you don't feel like eating all that, you could choose to eat three – count 'em three – Quarter Pounders with Cheese and save yourself 10 calories and 23 grams of saturated fat.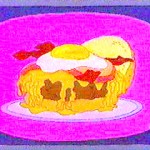 Also at the Cheesecake Factory – the Farmhouse Cheeseburger.  According to the Cheesecake factory's website, it's "topped with Grilled Smoked Pork Belly, Cheddar Cheese, Onions, Lettuce, Tomato, Mayo and a Fried Egg." First thing I thought of was this; evidently, the Cheesecake factory didn't understand that the Simpsons were kidding. The specs on this beast? 1,530 calories, 36 grams of saturated fat, and 3,210 milligrams of sodium. That's before you touch a french fry, or a piece of Cheesecake (see above).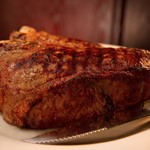 Anyway, go read the whole report to get your full dose of reality. I leave you with the one I am most likely to have eaten: Morton's Porterhouse Steak. This 24 ounce piece of heaven has 1,390-calories, 36 grams of saturated fat, and 1,200 milligrams of sodium. Add in a side of their mashed potatoes and half a side of creamed spinach and your dinner has 2,570 calories, 85 grams of sat fat, and 2,980 mg of sodium. That's with no salad, no appetizers, and no dessert. As the report concludes, "That's the calories of eight pieces of Original Recipe chicken plus mashed potatoes and gravy, coleslaw, and four biscuits at KFC, with an extra 1½ days' sat fat on the side."