I write this column at 40,000 feet. I'm returning from the sixth annual meeting of the International Society for the Study of Drug Policy. That's a key organization of researchers and practitioners concerned with alcohol and illicit drugs. Experts from all over the world met in Canterbury to discuss police strategies regarding street cocaine markets, what to do about Afghanistan's thriving heroin export trade, Mexican drug violence, HIV prevention among injection drug users, and more.
My own talk concerned—what else–substance abuse treatment services and health reform. I don't always follow the abstruse presentations by the sociologist-ethnographers and criminologists. Incredibly jet-lagged, I was beaten into submission by one analysis of drug policy and the ontological dilemmas of the contemporary neoliberal order. Still, ISSDP is always an opportunity to see old friends and to gauge the state of play on a broad range of issues.
Perhaps the most poignant talk was by Thu Vuong, and concerned compulsory drug treatment in Vietnam.[1] Vietnam has a particularly prevalent heroin problem, partly reflecting its location near major producers in south Asia.
Voung cited a September, 2011 Human Rights Watch report that I knew about but had not read. The report details serious injustices at the network of treatment centers and detention camps that cross the southern part of the country. Vietnam's Ministry of Labor reports 123 drug detention centers across the country. Since the year 2000, more than 300,000 drug users endured en masse detention and "labor therapy." Detainees husk and peel cashews and perform other forced labor. Some of this forced labor benefits private firms—itself a disturbing practice that violates human rights. Drug users endure beatings and other serious violations of human rights. Drug users receive little actual treatment in these detention centers. There is no evidence that such centers are actually effective in addressing individuals' long-term drug use.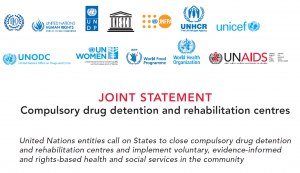 Some drug users who commit crimes may require coercive interventions–with accompanying due process protections and respect for human rights. All drug users deserve access to evidence-based interventions to address their substance use and to meet their basic needs.
Vietnam is a sovereign county that has made impressive gains in recent years. In June 2009, Vietnam eliminated criminal punishment for drug use. In some ways, this was a valuable social reform. Unfortunately, this step also weakened due process protections and judicial oversight of drug detention centers, which are considered therapeutic.
You learn a lot about any society by examining how it treats its outcasts—a group that generally includes street drug users in most societies around the world.  Our fellow citizens who use drugs are no less entitled to human rights than anyone else.
Hard-won experience suggests that effective and sustainable public health interventions require greater respect for these rights. When drug users are brutalized, they have strong incentives to hide themselves and their behaviors. It becomes much harder to provide the social, medical, and economic supports people need for sustained recovery.
Given Vietnam's unique history, western democracies should tread carefully and respectfully in crossing political and cultural divides to address human rights violations there. This March, the major United Nations public health and human rights organizations called for the abolition of compulsory drug detention centers. That's the right way to do things, for many reasons.
This is long overdue.
---
[1] Vuong, T., et al. Drug policy in Vietnam: A decade of change? International Journal of Drug Policy (2011),doi:10.1016/j.drugpo.2011.11.005