Do you know where the HRRP is heading and when? If so, how did you find the details? I ask because I've had a hard time tracking them down and in writing. With the help of some sources,* I finally have. So you don't have to, I've documented it all below.
First, the program currently penalizes hospitals for high readmission rates for three conditions: acute myocardial infarction, heart failure, and pneumonia. This we all know, right?
But what does the future hold? Turn to Section 3025 of the Payment Protection and Affordable Care Act (PPACA). It includes,
Beginning with fiscal year 2015, the Secretary shall, to the extent practicable, expand the applicable conditions beyond the 3 conditions for which measures have been endorsed [] to the additional 4 conditions that have been identified by the Medicare Payment Advisory Commission in its report to Congress in June 2007 and to other conditions and procedures as determined appropriate by the Secretary.
A clue! A clue! So, let's turn to that 2007 MedPAC report, shall we? What conditions does it "identify"? They're listed in Table 5-3.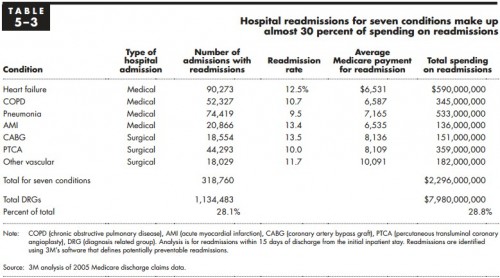 Among them, chronic obstructive pulmonary disease (COPD), coronary artery bypass graft (CABG), percutaneous transluminal coronary angioplasty (PTCA), and other vascular conditions would be new. And, there are four of them, just like the PPACA said. It also said the Secretary may add others deemed appropriate. The scuttlebutt seems to be that an all-condition measure will be among them.
But there's more! QualityNet reports,**
For 2013 public reporting, CMS has added the Hospital-Wide Readmission (HWR) measure and the readmission measure for patients undergoing elective primary total hip arthroplasty (THA) and/or total knee arthroplasty (TKA). These measures were first introduced during the September 2012 dry run.
HWR is the all-condition measure. I had not heard about THA and TKA measures being on the table. But, if QualityNet is right, these three will be publicly reported soon.
Should we expect public reporting to precede payment penalties? If so, then the COPD, CABG, PTCA, and other vascular conditions measures ought to be reported in 2014. And, in 2015, all of these are to be used for penalties.
* I haven't asked if folks who helped me find this stuff want attribution so I'm withholding it by default.
** I can't tell from its site what QualityNet is or how it gets its information. It was passed to me from a source I trust, and that's all I can say for now. UPDATE: See "About QualityNet."