Many of my more conservative counterparts like to point to Switzerland as an example of a system they would favor more. It's a private-insurance system that is all run at the level of the individual. You don't get insurance through the government or your job; you buy it on your own. There's a mandate, but there are also subsidies for the poor, aiming to keep everyone's contributions to health care below 10% of their income. there are also fairly high co-pays and deductibles.
It's a fairly expensive system, although still cheaper than ours. It performs decently in terms of quality. There are plenty of things that today's conservative will find unappealing, but it's probably closer to ideal for them than what we have today.
But there's a study that I just saw coming out in Preventive Medicine, entitled "High prevalence of forgoing healthcare for economic reasons in Switzerland: A population-based study in a region with universal health insurance coverage":
Objective: To investigate the determinants and the 4-year evolution of the forgoing of healthcare for economic reasons in Switzerland.

Method: Population-based survey (2007–2010) of a representative sample aged 35–74 years in the Canton of Geneva, Switzerland. Healthcare forgone, socioeconomic and insurance status, marital status, and presence of dependent children were assessed using standardized methods.

Results: A total of 2601 subjects were included in the analyses. Of the subjects, 13.8% (358/2601) reported having forgone healthcare for economic reasons, with the percentage varying from 3.7% in the group with a monthly income ≥ 13,000CHF (1CHF ≈ 1$) to 30.9% in the group with a monthly income < 3000CHF. In subjects with a monthly income < 3000CHF, the percentage who had forgone healthcare increased from 22.5% in 2007/8 to 34.7% in 2010 (P trend = 0.2). Forgoing healthcare for economic reasons was associated with lower income, female gender, smoking status, lower job position, having dependent children, being divorced and single, paying a higher deductible, and receiving a premium subsidy.
As I said above, co-pays and deductibles are high. They have a lot of "skin in the game". They are exposed to the cost of health care. And the results shouldn't suprise readers of this blog. About 14% went without health care because of cost in 2010. Women were more likely to forego care, as were people who were divorced or who had dependent children. Those who had insurance with higher deductibles were more likely to forego care. And here's the money shot: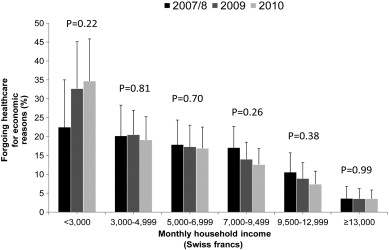 That's the percent of Swiss that have foregone care for economic reasons by year and income. What you're seeing is that almost no people in the upper class forego care. But as you get poorer and poorer, more and more people do. In the lowest group, more than a third of them went without care because of the cost.
When you expose people to more of the cost, they go without. That's by design. But you're totally depending on them to go without unnecessary care, not necessary care. What we're seeing is that poor people are much more likely to forego care than rich people. I'd want to make sure – really sure – that we weren't negatively affecting their health before I got comfortable with that. Research shows that's unlikely.