From Science, Donald Trump's first budget for research:
President Donald Trump's first budget request to Congress, to be released at 7 a.m. Thursday, will call for cutting the 2018 budget of the National Institutes of Health (NIH) by $6 billion, or nearly 20%, according to sources familiar with the proposal. The Department of Energy's (DOE's) Office of Science would lose $900 million, or nearly 20% of its $5 billion budget. The proposal also calls for deep cuts to the research programs at the Environmental Protection Agency (EPA) and the National Oceanic and Atmospheric Administration (NOAA), and a 5% cut to NASA's Earth science budget. And it would eliminate DOE's roughly $300 million Advanced Research Projects Agency – Energy (ARPA-E).
This is absurd. The US Congress hasn't passed a budget since 2009, but if by some miracle it does in 2017, it will not include a 20% decrease in the NIH budget. Does the President understand that the Congress will not do this? Does he even know that his budget says this?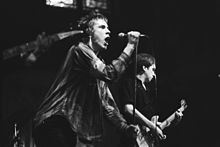 Well, someone in his office wrote these numbers down. What point was that person trying to make? Consider the budget not as a plan for governing but as an artistic performance, a kind of Sex Pistols track from the alt-right, a scream of anger against the dull conformity of funding research into health and well-being.
What values are being expressed?
Cardiovascular diseases doesn't matter? (CDC: 610,000 people die of heart disease in the United States every year.)
Cancer doesn't matter? (CDC: 595,000 people die of cancer in the United States every year.)
Substance abuse doesn't matter? (CDC: 50,000 opioid-involved deaths in the United States every year.)
Nothing matters?
What does the administration value? The US government spends $3 million on each weekend Trump spends in Palm Beach. That will come to $130 million per year at the current pace. An average NIH R01 grant costs $500K. The President's weekly resort trips cost us 260 medical research projects, per year.