Obviously, I've got a an interest in this that goes beyond professional:
Insurance rates in Indiana will increase 72 percent for those with individual plans and 8 percent for small group plans under President Barack Obama's healthcare overhaul, according to the state's insurance department.

The spike in costs is due primarily to new mandates under the law, which requires insurers to cover those with pre-existing conditions and to offer a minimum level of benefits, said Logan Harrison, chief deputy commissioner with the Indiana Department of Insurance under Republican Gov. Mike Pence. New taxes and fees under the law also contributed, Harrison said…

Costs for individual plans is expected to increase from an average of $255 per member per month in 2012 to $570 in 2014, when the most aspects of the law go into effect.
That's way high. As Sarah Kliff reported yesterday, most states are seeing rates far below that: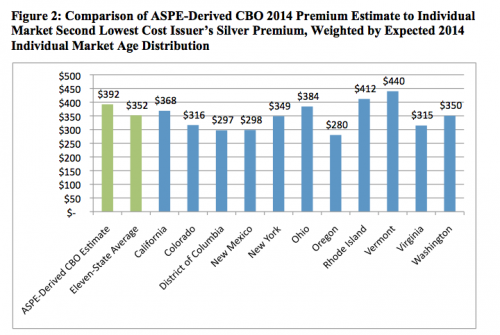 So what's the deal in Indiana? Anyone know why this is?
UPDATE: Tony Cook, who wrote the article above, sent me the following tweet:
@aaronecarroll IDOI says it's an avg increase across the board for all plans in the individual commercial major medical market for Indiana

— Tony Cook (@indystartony) July 19, 2013
If that's the case, then it's artificially high. While the other states are showing premiums for silver plans, the Indiana number includes gold and platinum plans as well.