In 2009, Aaron Kesselheim and I raised some questions in Health Affairs (gated) about mid-year changes in Part D formularies:
In addition, formulary stability is important; rules should continue to prohibit changes that negatively affect a Part D formulary or drug tier structure within a plan year. Patients will need to be aware of the changes in their plan well in advance of the annual enrollment period, but Medicare patients do not have a good track record in efficiently selecting Part D plans. Plans could be required to give beneficiaries advance notice of any prospective formulary or tier design change affecting any drug purchased in the prior three years.

Current Medicare rules allow some midyear benefit alterations that could directly affect patient care, in the form of drug price changes at the point of purchase. These changes can occur without notice, even after a beneficiary has committed to a particular plan.
Good news. The Medicare Part D mid-year formulary change system appears to be working splendidly, per the GAO, at least for non-price changes.
Mid-year formulary changes are legion. Almost every plan had mid-year formulary changes in 2008 and 2009 and many had more than 100 mid-year changes. Many of these changes were positive (adding a new drug) or generic substitution as a patent expired: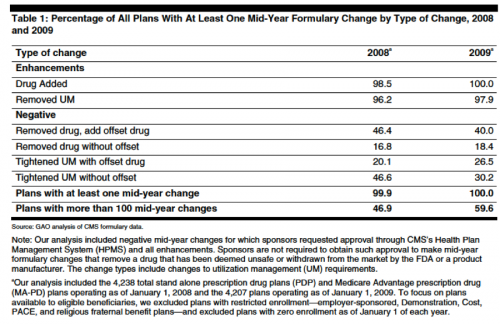 Nevertheless, 1.1 million Part D beneficiaries experienced a "negative" mid-year formulary change: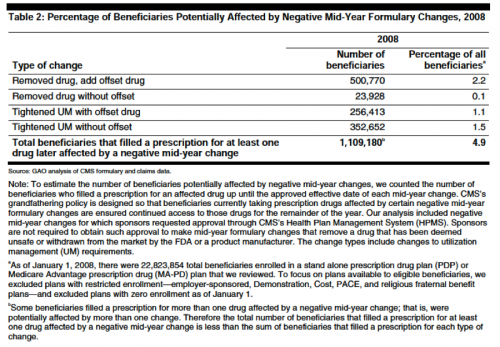 CMS protects beneficiaries from negative (non-maintenance) changes with an informal "grandfathering policy" good until the end of the relevant plan year. Affected beneficiaries also receive notices. Amazingly, it appears that none of the beneficiaries have complained (at page eight) (the report notes that absence of complaints does not mean no one was harmed).
Missing from the report: mid-year price changes and the actual date the informal grandfathering policy was adopted.