From a presentation last week at Harvard's Drug Policy Research Group, by Murray Aitken, Executive Director, IMS Institute for Healthcare Informatics.
The key message: PhRMA revenues in the OECD will be flat through 2015.
Causes:
loss of exclusivity (LOE) in wealthy-country markets;
cost-savings tools employed by many governments; and
a relative dearth of upcoming blockbuster drugs.
All of the growth will be in "Pharmerging markets" (BRICs+), generics, and biologicals which lack substantial biosimilar competition. Two of the IMS charts: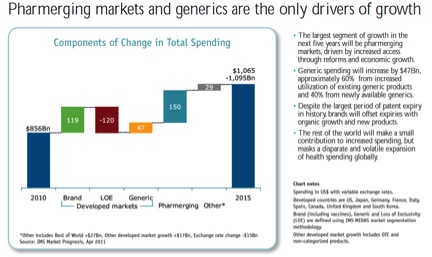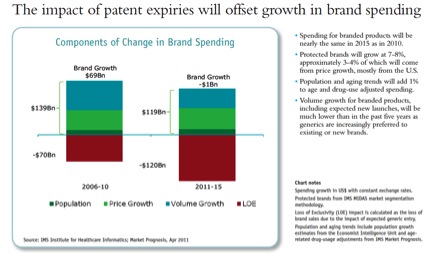 This data explains why PhRMA companies continue to use trade rules to delay generics and boost reimbursement in the developing world.  Recent examples include the TRIPS Agreement, bilateral trade deals like the Korea-US Free Trade Agreement, and multilateral negotiations like the Trans Pacific Partnership.  For an intro into the academic literature, see my Pharmaceutical Arbitrage article from Yale J H Pol, L & Ethics. From advocates:  MSF is a good place to start; Jamie Love's KEI is the other essential advocacy organization. From the companies, see: PhRMA.
On biosimilars, the projections are discouraging for anyone hoping for significant competition in the next five years: large molecule biologics will be a $190 – $200 billion business in 2015, with very modest biosimilar competition, around 1%. The Affordable Care Act gave these drugs a surprisingly long 12 years of exclusivity in the US: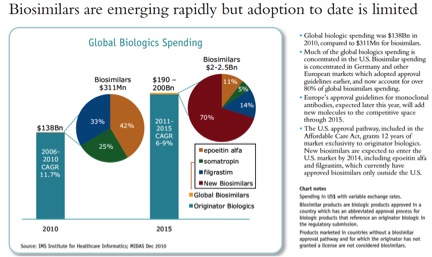 Finally, a reminder that revenue growth potential varies tremendously by therapy class. This reinforces the point that I've made many times: reimbursement drives investment decisions between therapy classes. (I don't know why antibacterials were left off the chart):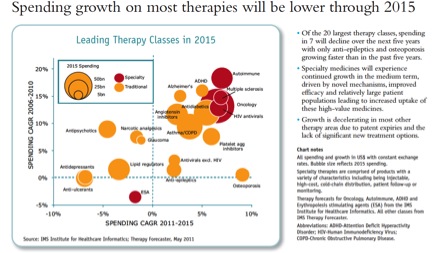 Full report here.