Say what you will about the American Hospital Association (AHA), but they produce some really good charts in their annual Trends Affecting Hospitals and Health Systems. I could easily write dozens of posts based on the charts. In this one I'll focus on how enrollment in different types of employer-sponsored health insurance plans has changed over time.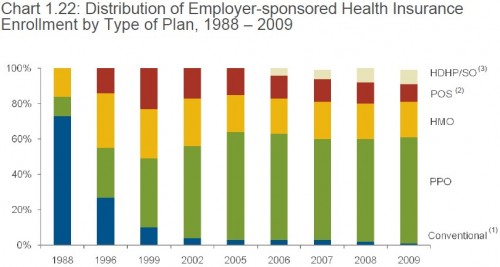 There have been three significant developments over the last two decades. First, "conventional" or indemnity type plans all but disappeared between 1988 and the end of the 1990s. Second, as indemnity plans disappeared, PPOs arose in their place. (Actually, I'm guessing there was more enrollment in HMOs in the early- to mid-1990s–the era of managed care. That period is not shown in the graph.) Third, in recent years high deductible health plans (HDHPs) and savings option (SO) plans have emerged.
Indemnity plans are now essentially dead. Among the remaining plan types HDHPs capture the least enrollment. That will likely change, but how quickly? And what will they replace?