Robots in your chest, repairing your heart vessels.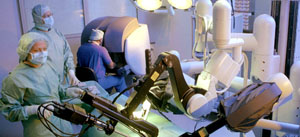 This study (Robert Poston is the corresponding author) finds that DTCA of r-CABG is effective in bringing patients to the hospital:
Between July 2008 and July 2009, a total of 103 potential patients, or their representatives, contacted our office as a consequence of the DTCA campaign, and requested a formal consultation from our office. Most of these were considered a "second opinion" consultation. After completing the consultation, 71 of the DTCA responders were found to be appropriate candidates for r-CABG and 54 (76%) went on to have r-CABG surgery at BMC, while the remainder chose to not have surgery at our center. Additionally, two patients had self-referred to the center in response to the ad, though for cardiac surgical procedures other than CABG (valve replacements).

During the study period, there were 934 CABG procedures in Massachusetts involving 1 or 2 bypass grafts. Assuming that most of these cases would have been candidates for r-CABG, the DTCA campaign generated 71 qualified leads (a 7.6% potential share of the market) with 54 actual converted leads (a 5.1% actual share of the potential market).
Moving 5.1% of the Boston CABG market via DTCA is a strong marketing result.
In other results, the r-CABG patients were younger, healthier and wealthier.  After controlling for these factors, clinical outcomes were similar but the r-CABG patients were slightly less satisfied after 6 months, having expected smaller skin incisions and quicker recovery from the robotic surgery.
In short:  effective marketing, but no proof of  superior efficacy. People buy robots, even absent evidence that they are better.
See the prior TIE coverage of agency cost issues in robotic surgery.
@koutterson