This morning, the federal district court in DC issued a preliminary injunction blocking the new FDA cigarette warnings until the full lawsuit can be heard. As I've said before, the First Amendment is being wielded to strike down public health regulations in unprecedented ways. This litigation was well known, but most observers weren't expecting the companies to win on a preliminary injunction.
The Founding Fathers wouldn't recognize today's First Amendment, which was designed to protect religious and political minorities, but is increasingly defending the world's most powerful corporations.  The First Amendment has become corporate America's weapon of choice against public health rules.
Highlights from the 29-page opinion:
Judge Leon clearly embraced the tobacco companies' First Amendment argument:
the Court concludes that plaintiffs have demonstrated a substantial likelihood that they will prevail on the merits of  their position that these mandatory graphic images unconstitutionally compel speech, and that they will suffer irreparable harm absent injunctive relief pending a judicial review of  the constitutionality of the FDA's Rule.
The court applied strict scrutiny as the constitutional standard, which is much tougher than the standards previously applied to commercial speech. This bodes well for the tobacco companies to win on the merits.
Judge Leon was miffed that the FDA didn't voluntarily agree to delay the effective date of the new labels until after he could rule on the merits.
The new warnings were to begin for all cigarettes manufactured on or after September 22, 2012. One of the now-blocked warnings: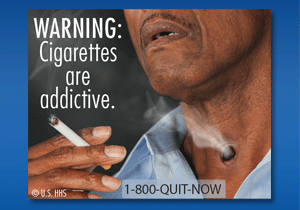 h/t to Allan Coukell (Pew) for the pointer