Ashish Jha blogs about his new paper in JAMA with Karen Joynt and E. John Orav:
Over 16 years ago, we embarked on a national effort to save rural hospitals – and closures of rural hospitals have declined precipitously. Preserving access to hospital care is a good thing. Yet, the program clearly has also gone astray in important ways:  there are too many hospitals with the CAH [Critical Access Hospital] designation that do not need it – and it's wasting taxpayer money. Even more importantly, our effort to shield these hospitals from the difficulties of participating in national quality improvement efforts may have been well intentioned, but it has not benefited those Americans who count on CAHs for their hospital care. We can surely do better.
From the paper, here's a look at the trend in risk-adjusted, 30-day mortality for acute myocardial infarction, stratified by CAH status.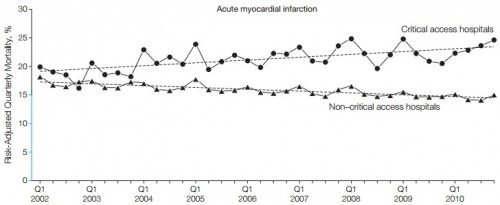 A similar divergence in mortality rates was observed for congestive heart failure and pneumonia.
UPDATE: See also the accompanying editorial by John Ioannidis.