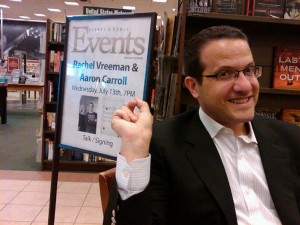 Last Wednesday, we had a book signing at the local Barnes and Noble in Carmel, Indiana for our new book. We probably sold about 40-50 copies, which thrilled us. Granted, many of the people who stopped by were close, personal friends, but there were a number of people who actually came because they were fans of the book, and two people asked to take pictures with us.  So all in all, a good night. Heck, given some of our past signings, this was a huge success.
Writing a book can be a humbling, as well as an exhilarating experience. If I have to explain one more time why my book is not on the NYT bestsellers list, I may scream. Do people not know how hard it is to get a book published? How hard it is to get people to buy it? Over July 4th weekend, a friend asked me how many books they were printing.  Then he asked me how many JK Rowling got for the last Harry Potter book. Then he looked sorry for me that the numbers were apart by about a factor of 2000.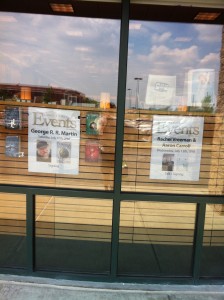 Anyway, last Wednesday was a win for us. Especially since I noticed this in the window. George R. R. Martin was signing 3 days later – in Carmel, Indiana! A year ago, dropping George R. R. Martin's name might have brought squeals from hardcore fantasy nuts, but now – with the success of A Game of Thrones on HBO – he seems to have a lot more mainstream fans.
I, on the other hand, have been a faithful reader for about two decades. I've been a fan of his since his short story collection, Portraits of his Children. A Game of Thrones merely cemented his place in my library. Since the first book in the series was released in 1996, I've been patiently waiting for each new novel. At this point, he's almost got me as strung out as Stephen King had me with the Dark Tower series. I read book one of that series when I was 10, and the last when I was 32. I had to learn all new levels of patience.
But I've learned you can't rush quality, and I won't complain. I'm just happy A Dance with Dragons is out. And I was very, very excited to go meet George R. R. Martin and get some books signed. Since the signing was at 2PM, I left my house at 1:30 so I'd have time to stop at Lowe's and pick up a new toilet handle beforehand. That took longer than I'd thought, though, so I arrived at Barnes and Noble at 1:55 with my 5 books I wanted signed.
I was totally unprepared for the crowd.  They put a bracelet on my hand with the number 30 on it, so I thought I'd be OK at least. I couldn't see Mr. Martin, but at least I could hear him. At 2:30, they explained the rules for signing (line up with your number, three books per person, no personalization, one question), and people began to queue.
That's when my heart sank. It turned out I was in group 30.  There were 25 people per group.
Mr. Martin apologized for the rules, but he explained they were hoping to get done in 4-5 hours. I realized there was no way that I would get my books signed.
After 30 minutes, as group 3 got ready to go, I began to despair. But then I noticed a friend in line. He only had one book. Three minutes of begging later, and a promise for an autographed copy of my book, he agreed to take two of my George R. R. Martin books with him.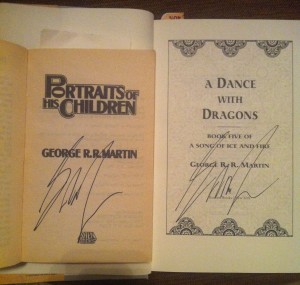 So I didn't get to meet Mr. Martin, or ask him a question. If you wanted to know, I was hoping to ask him about his short story Under Siege, which I've read repeatedly, and am still not sure I completely understand. But I got two books signed, and I'm more than satisfied.
My friend had showed up at 7:15 AM and was only in group 3 – for a 2PM signing! He told me he heard that the first printing for A Dance with Dragons was 650,000. But during his talk, Mr. Martin spoke about JK Rowling as if she was a real success, and that he still had nowhere near her power. I wonder if he ever wants to scream when his friends compare him to her.