If you're like my mom, you want to know your 2011 Medicare premium right now (or a month or two ago, actually). But, it's not so simple because there are different premiums for Parts A, B, C, and D. (Yes, as I'll explain, even Part A has a premium for some people). Moreover, premiums for Parts B and D vary by income. Until very recently, there was no information about how the Part D premium varies by income. My mom and I looked, hard, and she called Medicare and several insurance carriers. Nobody knew. Nobody even knew what she was talking about. Medicare suggested calling Social Security, and Social Security suggested calling Medicare.Very frustrating.
(Don't even get me–or her–started on the challenges of gathering information on Medicare plan and supplement options. Anybody who says this is easy because it is all online and there are organizations dedicated to helping is totally wrong. All relevant information for the decision is not readily available and we've tried all resources. This is very hard. My mom is as smart and organized as anybody on the planet, and I'm very knowledgeable about Medicare. Still, it has been one of the hardest information gathering challenges we've ever faced.)
Anyway, about premiums for 2011, below are the answers, published last week on the Q1Medicare.com website, which I will accept as an authority on this matter until shown that I should not.* Let's start with Part A. As I wrote, some individuals pay a Part A premium, though most do not.
[Beneficiaries with] fewer than 30 quarters of [Medicare-covered employment …] obtain Part A coverage by paying a monthly premium […] of $450 for 2011. […] Individuals who have between 30 and 39 "quarters of coverage" may buy into Part A at a reduced monthly premium rate of $248 in 2011.
Moving on to Part B, the following two tables, excerpted from Q1Medicare.com, show how the premium varies by income.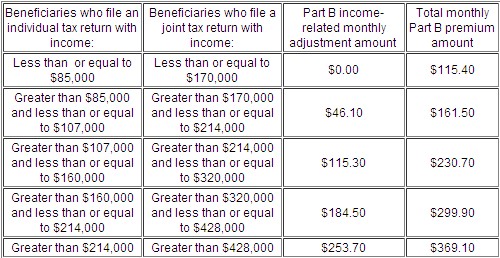 Part C premiums will vary by plan. One source for those is the Medicare.gov website. Part D premiums vary by plan as well. In addition, in 2011 there will be income-related "adjustments" (additional premiums), as given in the following two tables.


There's lots more information about premiums and other aspects of Medicare on the Q1Medicare site. I applaud them for organizing this premium information in a simple and concise form.
*I'd like to know more about that organization and am not finding their About page all that informative.
Later: A reader suggests that I should point out that because there is no COLA for Social Security benefits in 2011, Medicare premiums that are deducted from SS checks will not increase for those already on Medicare. This means a person entering Medicare in 2011 will pay $115.40 for Part B but someone who entered in 2009 or prior would still be paying $96.40 in 2011, and someone who entered in 2010 would be $110.50 in 2011. For more, see this CRS report or my prior post.