Eleanor Clift has a nice article recounting a personal story about her husband's experience with hospice, and how this fits into health reform.
Second, Brad Flansbaum's suggestion to yesterday's post–An Example for the Super Committee–of looking at this piece on readmissions was a good one. The summary of their arguments (in the table) are that the move to address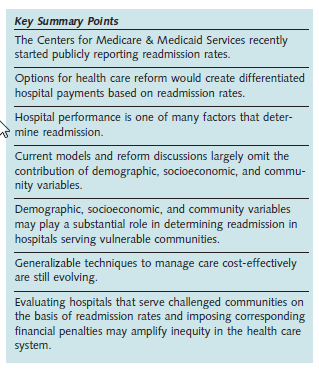 readmissions, while understandable, may penalize hospitals for factors beyond their control. Most importantly, they worry that low income and marginalized communities may be far more likely to experience what I would call 'social readmissions' that could result from inadquate family/careigver/social support. They end up in the hospital for reasons that the hospital cannot be expected to address, and this could lessen the willingness of hospitals to care for such communities.
I agree that as we currently think of hospital care such issues are outside the purview of hospitals. However, if this is the reality of some of the patients covered by Medicare, we need to figure out how to address these problems, both on a quality and cost basis.
In the original post, I was noting the need to tear down silos. Hospice and palliative medicine are disciplines who claim to address the full patient and to begin from their goals to devise a plan of care that makes sense for them and their family. This expertise, which is now "siloed" is needed more broadly in the health care system. The focus on patient goals and accounting for the needs and abilities of caregivers is needed throughout the system. Just blaming the hospitals (and paying them less) for readmissions won't cut it. We need to figure out a way to deliver the needed care to the patients covered by Medicare. This is the type of breakthrough that the many demonstration projects created by the ACA are designed to lead to.  I hope someone manages to show the way ahead in dealing with these issues. It is much easier to point out the problems than it is to devise practical solutions.
Not to belabor it, but this will be hard to do under any circumstances. If any pilot project that brings hospice or palliative medicine techniques and perspective to bear on other aspects of the health care system becomes "death panels" or some other absurd misstatement, we have no chance. We desperately need a political health reform deal so that moving forward to address quality and cost throughout the system is the responsibility and expected tasks of both political parties. And so that we learn to seek evidence, evaluate what it means, and move ahead to improve policy without everything having to first and foremost be another "bullet" in political war.