A recent report in the New England Journal of Medicine paints a discouraging picture of public awareness about Medicare spending. Robert Blendon and John Benson find, among other things, that people generally don't understand the role Medicare plays in the federal budget deficit—which matters, since the legislators responsible for reducing that deficit tend to care about reelection.
The entire piece is worth reading, but I wanted to pull one passage in particular (emphasis added, internal citations removed):
[W]hen given a dozen possible causes for rising Medicare costs that have been suggested either by experts or in the media, the majority do not identify any one of them as the most important. However, the three most often cited reasons relate to poor management of Medicare by government, fraud and abuse in the health sector, and excessive charges by hospitals. The lowest ranked reason was the cost of new drugs and treatments being offered to seniors.
I'm going to set aside the most often cited reasons and focus on that last nugget: only six percent of those surveyed think new treatments—new technology—are a major force behind spending growth. Now seems like a good time to return your attention to a chart Austin pulled together last year: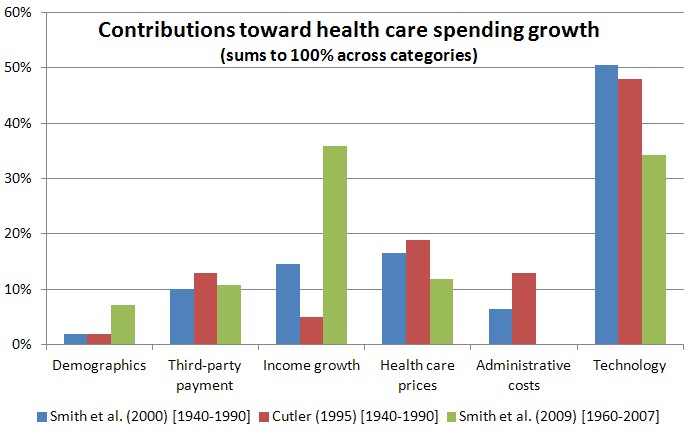 So yeah, there's a consensus that technology is kind of a big deal.
But you don't have to take my word for it. Check out this TEDx talk by Amitabh Chandra, a health economist from Harvard. He highlights two examples of tremendously expensive treatments that Medicare covers, despite yawning gaps in evidence for their effectiveness. Actually, in the case of Avastin, there is evidence: the FDA revoked approval for the drug, ruling that it's not "safe and effective" for the treatment of breast cancer. Medicare covers it for that indication anyway.
It won't be easy to reconcile hard truths about the costs of new technology and spending containment with public fear of "rationing." A majority of those surveyed think that Medicare already rations care by withholding useful treatments and prescription drugs (they're wrong).
The authors conclude:
[T]wo points are important. It would aid the long-term resolution of these issues if there were a nonpartisan, broad-based public education campaign launched focusing on how Medicare works financially. Second, it would be advantageous if discussions of the financial sustainability of Medicare could be separated from public debates over reducing budget deficits or enacting tax cuts. Until these concerns are better addressed, the gaps in perception are likely to remain.
Update: I've clarified my point about Avastin's revoked FDA approval: it was revoked for breast cancer (remaining approved for other cancers) but Medicare still covers it for breast cancer.
Adrianna (@onceuponA)