Kevin Birmingham is the winner of the Truman Capote Award for his book,The Most Dangerous Book: The Battle for James Joyce's Ulysses. The book also won the 2015 PEN New England Award for Nonfiction. You would think that an author of a first book that won multiple prizes would be a rising academic star. But Birmingham is just an adjunct faculty member at Harvard, where 'adjunct' means he is paid on a short-term contract and is not on the tenure ladder. He gave a speech titled "The Great Shame of Our Profession" as part of the Capote award ceremony, and the speech has been published in the Chronicle of Higher Education. It's about the exploitation of adjunct faculty in the humanities.
Here's a sample.
According to the 2014 congressional report, adjuncts' median pay per course is $2,700. An annual report by the American Association of University Professors indicated that last year "the average part-time faculty member earned $16,718" from a single employer. Other studies have similar findings. Thirty-one percent of part-time faculty members live near or below the poverty line. Twenty-five percent receive public assistance, like Medicaid or food stamps. One English-department adjunct who responded to the survey said that she sold her plasma on Tuesdays and Thursdays to pay for her daughter's day care. Another woman stated that she taught four classes a year for less than $10,000. She wrote, "I am currently pregnant with my first child. … I will receive NO time off for the birth or recovery. It is necessary I continue until the end of the semester in May in order to get paid, something I drastically need. The only recourse I have is to revert to an online classroom […] and do work while in the hospital and upon my return home." Sixty-one percent of adjunct faculty are women.
The problem is not exclusive to the humanities. There are also adjunct faculty in science and some argue that post docs are often exploited in science. And it is not a marginal problem: the majority of college faculty are now 'contingent'.
By 2011, 51 percent of college faculty were part-time, and another 19 percent were non–tenure track, full-time employees. In other words, 70 percent were contingent faculty, a broad classification that includes all non–tenure track faculty (NTTF), whether they work full-time or part-time.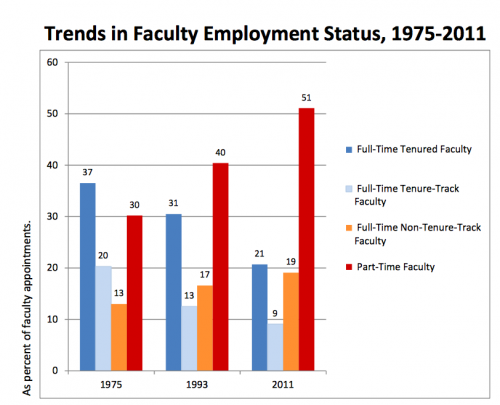 Read the whole thing, but a warning: if you are a scientist or a journalist you may have trouble appreciating the writing. Or at least I did. The first few paragraphs are a paean to "narrative historicism", the humanities methodology Birmingham used in his prize-winning book. The tone then shifts abruptly and becomes a jeremiad against the universities.
I sent the essay to a friend who is a professor of comparative literature, with a complaint about humanists who can't write a proper introduction to an argument. He wrote back and (kindly) demolished my complaint: the essay is beautifully constructed, and the jeremiad is itself an example of the narrative historicist approach.
In other words: be patient, the man is writing for humanists, not scientists. And he needs a job.