As I try to get my ahead around some aspects of Medicaid managed care, here are some things we know from various sources.
Via Jay Hancock:
"Avalere Health projects that 76 percent of beneficiaries  in Medicaid and the related Children's Health Insurance Program (CHIP) will be covered by private managed care by 2016."
"Private insurers booked $115 billion in Medicaid revenue last year, according to data compiled from regulatory filings by Mark Farrah Associates and analyzed by Kaiser Health News."
"Operating profit on those premiums came to $2.4 billion. Net profit, after accounting for taxes, depreciation and other expenses not directly connected to health coverage, would have been less."
Among the new, proposed regulations of Medicaid managed care plans, "HHS now wants states to certify at least annually, perhaps based on direct queries to doctors, that enough caregivers are in the managed-care network and close enough to plan members to serve them."
Via Sarah Ferris:
"Nearly 30 million people are now enrolled through managed care, which amounts to about two-thirds of people with Medicaid. That's up from just 2.7 million people with managed care in 1991."
Both Ferris and Hancock discuss the new medical loss ratio rule. You can click through for that. It's not my main interest at the moment.
Via Kyle Caswell and Sharon Long, examining Medical Expenditure Panel Survey data on non-elderly adults from 2006-2009:
"[F]or nondisabled adults [] increased [Medicaid managed care or MMC] penetration is associated with increased probability of an emergency department visit, difficulty seeing a specialist, and unmet need for prescription drugs." Some other work they cite, but not all of it, is consistent with these findings.
Consistent with prior work they cite (here's some, the working paper version of which I mentioned here), Medicaid managed care penetration "is not associated with reduced expenditures. We find no association between penetration and health care outcomes for disabled adults."
"[T]he primary gains from MMC may be administrative simplicity and budget predictability for states rather than reduced expenditures or improved access for individuals."
Their analysis excluded Medicaid-Medicare dual enrollees and those with less than full year coverage. Separate analyses of the SSI population were generally not statistically significant, but the sample was smaller.
Via a KFF brief by Julia Paradise and MaryBeth Musumeci, anticipating issues to watch for in the new regulations (written before they were out):
"[M]ore than half of all Medicaid beneficiaries are enrolled in risk-based managed care organizations (MCOs) through which they receive all or most of their care."
"Not all state Medicaid programs contract with MCOs, but a large and growing number are doing so, and some states mandate that beneficiaries enroll in MCOs to receive Medicaid benefits."
"In FY 2013, capitation payments to comprehensive MCOs accounted for about 28% of Medicaid spending nationally."
"The federal regulations, last updated in 2002, set forth state responsibilities and requirements in areas including enrollee rights and protections, quality assessment and performance improvement (including provider access standards), external quality review, grievances and appeals, program integrity, and sanctions."
Because I am hoping to see a new issue brief that summarizes what's actually in the proposed regs, I'm not going go through this brief in detail. Suffice it to say, as things to look for in the new regs, the brief covers availability and accessibility of plan information, enrollee appeal rights, provider network adequacy, quality of care, long-term care services and supports, actuarial soundness of capitation rates, medical loss ratio, encounter data, and program integrity (basically, auditing contractors).
KFF's Medicaid Managed Care Market Tracker has some useful data. A report, based on it, provides some charts and key insights. Among them:
"Many state Medicaid programs are expanding their reliance on MCOs. In a recent 50-state survey of Medicaid directors conducted by the Kaiser Commission on Medicaid and the Uninsured, half the states reported taking action in 2014 to enroll additional Medicaid eligibility groups in MCOs. These states include California, New York, Texas, Florida, and Illinois – the five states with the largest Medicaid populations. A smaller number of states expanded their managed care programs geographically and/or shifted from voluntary to mandatory MCO enrollment. Nearly half the states plan to expand their risk-based managed care programs in 2015 as well."
"A number of large health insurance companies have a significant stake in the Medicaid managed care market. Currently, 16 firms own Medicaid MCOs in two or more states, including five firms – UnitedHealth Group, WellPoint, Centene, Aetna, and Molina – that have Medicaid MCOs in 10 or more states. Eleven of the 16 multi-state parent firms are publicly traded; eight of these 11, including the five just mentioned, are ranked in the Fortune 500. The other five multi-state parent firms are nonprofit companies."
Also, from the tracker directly, of the 38 states (plus DC) with MCO contracts, 25 have five or fewer and 14 have three or fewer. Suffice it to say, competition isn't robust in many states.
Via a Dan Diamond tweet, year-over-year stock prices of Medicaid managed care-offering organizations are way up: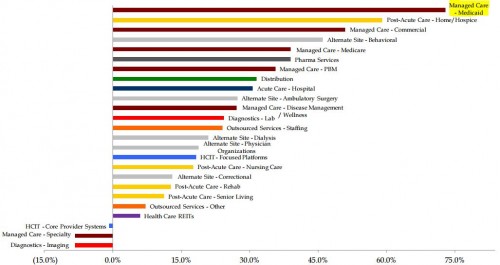 (May 2015-May2014)