The New York Times has two articles about what administrators get paid. The first is by Elisabeth Rosenthal about compensation for health plan administrators. Consider
Ronald J. Del Mauro, a former president of Barnabas Health, a midsize health system in New Jersey, earned a salary of just $28,000 in 2012, the year he retired, but total compensation of $21.7 million… in addition to Mr. Del Mauro's $21.7 million package, Barnabas Health listed more than 20 vice presidents who earned over $350,000 on its latest available tax return; the new chief executive earned about $3 million.
You might think that was excessive. But
Ellen Greene, a spokeswoman for Barnabas Health, said Mr. Del Mauro's retirement package was "a function of over four decades of service and reflects his exceptional legacy."
And that legacy was exceptional!
Data released by Medicare show that Barnabas Health's hospitals bill more than twice the national average for many procedures. (In 2006, the hospital paid one of the largest Medicare fines ever to settle fraud charges brought by federal prosecutors.)
In the second Times article, Tamar Lewin reports on administrative salaries in higher education. At the center is an institution that I care for deeply, and I'm beside myself about it. The villain is my former boss Gordon Gee, the ex-President of Ohio State. Ohio State University has a very large medical school and hospital system, for which Gee was responsible.
As in several past years, the highest-compensated [university] president, at $6,057,615 in this period, was E. Gordon Gee, who resigned from Ohio State last summer amid trustee complaints about frequent gaffes.
And what was Gee's legacy?
In the study by the Institute for Policy Studies, Ohio State was No. 1 on the list of what it called the most unequal public universities. The report found that from fiscal 2010 to fiscal 2012, Ohio State paid Mr. Gee a total of $5.9 million. During the same period, it said, the university hired 670 new administrators, 498 contingent and part-time faculty — and 45 permanent faculty members. Student debt at Ohio State grew 23 percent faster than the national average during that time, the report found.
What's wrong with these salaries? Leave aside that these men ran their institutions in ways that harmed the public interest. And let's acknowledge that only a few people have the talent to lead a big institution. Could we get effective administrators for less?
I think so. The chief medical officer for the province of Alberta makes $350,000. He manages a system that cares for 4 million people. Health in Alberta, by the way, is as good or better than any US state.
Why does this matter? Excessive salaries aren't the cause that makes American health care the most expensive in the world. As Aaron points out, you could make all the insurance company presidents work for free and US health care would still cost far too much. The cost problem isn't in any one sector of US care. It's in every sector. So we have to change the system, rather than fixate on issues that, however outrageous, are small in the larger scheme.
Having said that, it is also true that if the cost problem is everywhere you have to look everywhere and take every bit of savings that you can find. One among many places to look: Americans pay too much in administrative costs for health care.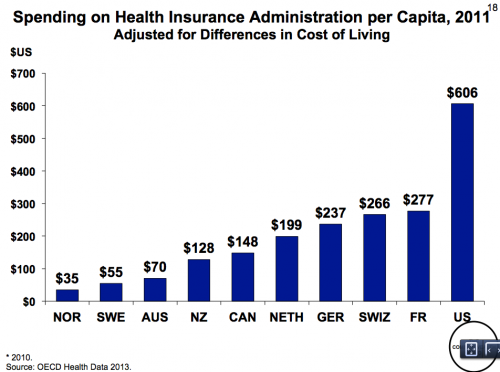 How can we bring down that $300+ per capita per year difference in administrative costs? Among many other changes, we should pay health care administrators reasonable salaries.