The RWJF has a new report out, depressingly titled "Many Sick Americans Experience Significant Financial Problems and Report their Care is not Well-Managed":
Many Americans who have experienced a serious illness or injury within the past 12 months are concerned about the financial costs of medical care, and struggle to ensure that their care is appropriate, according to a new poll released today by the Robert Wood Johnson Foundation (RWJF), NPR and Harvard School of Public Health. RWJF commissioned the poll to better understand Americans' experiences and attitudes related to cost and quality of U.S. medical care.

A large majority of the general public (87%) thinks the cost of care is a serious problem for the country. In addition, about two-thirds of the general public (65%) believes the cost of care has gotten worse over the last five years.
They also looked at what "sick" Americans had to say about the health care system. Thirteen percent of sick Americans thought they were given the wrong diagnosis, test, or treatment. About 15% of sick Americans thought they got tests they didn't need and 18% thought they didn't get the tests they did. More than a quarter of sick Americans thought they were not well managed. These are the people the health care system is supposed to serve. But nearly three quarters of them see the cost of health care as a "very serious" problem, and another 16% think it's "somewhat serious".
And just when I thought I couldn't feel worse, I saw this: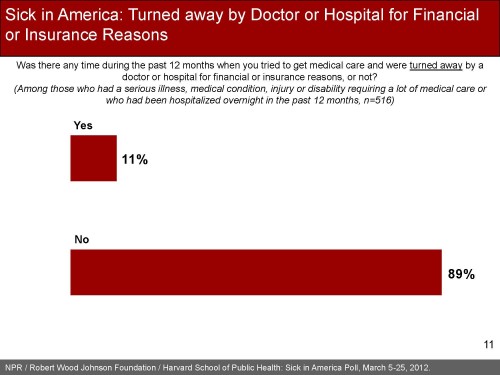 More than 10% of sick Americans report being turned away from a doctor or hospital because they couldn't pay.
I wanted to end with a snarky line, but I got nothing. That's just unacceptable in the richest country in the world.