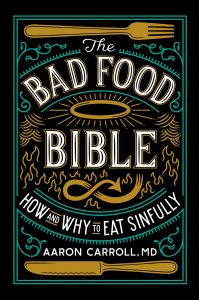 I'm trying to keep the number of posts I write about this to a minimum, but the publication date for my new book is a week away. The Bad Food Bible: How and Why to Eat Sinfully will be released on November 7. It grew out of some of my columns over at the Upshot about food (which also happen to be some of my most popular).
Preorders matter because they all count towards first week sales, and I'm told that's important. So if you're considering picking up a copy (and why wouldn't you?), please consider buying one now from any of these sellers:
Any local bookstore you might frequent. You can ask for the book by name or ISBN 978-0544952560
Thanks!