As mentioned in my last post, Austin and I were at the University of Michigan at a gratifying symposium held in honor of Jeff Alexander, Jack Wheeler, and Catherine McLaughlin.  Jeff, Jack, and Catherine are three of my personal mentors. Each is retiring from the Michigan faculty this year. Austin is shown below (foreground) keynoting this event.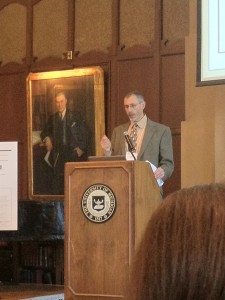 As individuals, we tend to ascribe our personal successes to our own efforts. Focused elbow grease is certainly the key ingredient. No less important are the various forms of help that many of us receive along the way.
I was blessed to have worked with great colleagues and mentors at every stage. I started as a junior faculty member at Michigan's terrific Department of Health Management and Policy. Jeff, Catherine, and Jack–along with others such as Sheldon Danziger, Ken Warner, and Peter Jacobson—played a critical role for me, and for many others.
I and some of my peers moved on. Mike Chernew went to Harvard, Paula Lantz became at department chair at George Washington University. Most others have stayed put. We all retain affection for the place.
I'm not sure how Michigan creates its culture of collaboration and mentoring. Maybe it's the small Midwestern college town feel weirdly lampooned in The Five Year Engagement. You don't flick someone off at a traffic light; it's probably your daughter's fifth-grade teacher. Tenure is challenging but not impossible. Moreover, there is enough hard money around to blunt the Darwinian culture that toughens some public health schools. U of M is also pretty big. Many centers, postdoc programs provide social glue.
Or maybe it was just decisions by particular senior scholars to embrace and perpetuate a culture that values these things. Jeff, Jack, Catherine, Sheldon, Ken, and Peter have each built successful careers in no small part through productive and generous collaborations with students and junior peers.  Whatever created this culture and these relationships, I greatly benefitted.