Healthcare Triage started as a part-time project for all of us, back when we tried to put out one episode a week. But we've grown a lot in the last year, and we've been producing a lot more material. We've been reaching a wider audience, and we're being increasingly recognized as one of the premier channels in health.
We'd like to put even more time and resources into the channel to make it even more useful and accessible. We have some pretty cool ideas of episodes or series we'd love to make, but to do that… we need resources. And that's where you come in!
Patreon is a subscription based service that lets fans become patrons of their favorite creators. It allows you to help support Healthcare Triage, or even to help us make it better in the future. Resources would allow us to get some better equipment, improve our graphics, make the set nicer, or even go out on location to make new videos.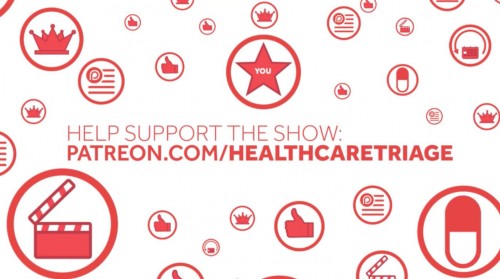 Healthcare Triage will ALWAYS be free to watch and share. But our joining Patreon will give us the chance to make it even bigger and better. Who wouldn't like that? Plus, there are awesome rewards you can get for pledging various amounts.
Go check it out. No pressure. But if you love Healthcare Triage and can make a pledge, we'd really appreciate it!
We talked more about it on this week's Healthcare Triage LIVE, and John Green stopped by to help and ask some questions. Watch!