Responding to my post on the financial benefits of health insurance, the Urban Institute's Genevieve Kenney wrote me:
I wanted to point you to more recent data from our Health Reform Monitoring Survey that shows an even steeper drop in the share of adults ages 18-64 with problems paying family medical bills when we look at the period between September 2013 and March 2015. This change could be due to both further takeup of coverage in 2015 and to a lower likelihood that those who obtained coverage in 2014 would report problems paying family medical bills in the previous year as more time passes. We also found that adults were more likely to report problems paying family medical bills in March 2015 if they had low incomes, were uninsured for part or all of the previous 12 months, were in fair or poor health, or had high deductibles, and that those with problems paying bills were much more likely to forgo needed care because they could not afford it compared with adults who don't have medical bill problems.
Pulling up the study, here are two charts I found interesting. The first shows the widening gap in health care affordability between Medicaid expanding and non-expanding states. The second shows the association of affordability with deductible level.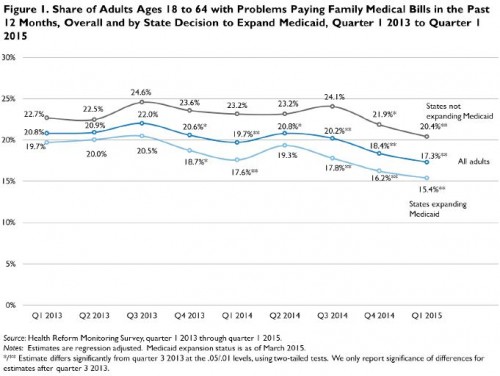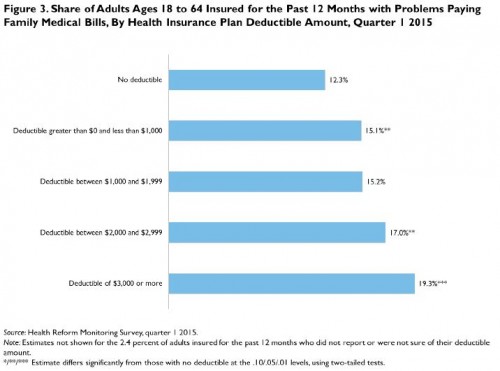 Back to Genevieve's email:
A separate brief focused on medical debt using December 2014 HRMS data shows some of the limits of insurance coverage in protecting families against large medical bills, as 70% of adults with medical debt reported that they or their family members incurred all of the debt when they were insured.
Here's one chart from that brief. No doubt because cost sharing is higher, those with private coverage (ESI or nongroup) are more likely to report medical debt due to cost sharing than those with public coverage.