There's a piece in the NEJM that's so, so, so worth your time. "High-Cost Generic Drugs — Implications for Patients and Policymakers":
It is well known that new brand-name drugs are often expensive, but U.S. health care is also witnessing a lesser-known but growing and seemingly paradoxical phenomenon: certain older drugs, many of which are generic and not protected by patents or market exclusivity, are now also extremely expensive. Take the case of albendazole, a broad-spectrum antiparasitic medication. Albendazole was first marketed by a corporate predecessor to GlaxoSmithKline (GSK) outside the United States in 1982 and was approved by the Food and Drug Administration (FDA) in 1996. Its patents have long since expired, but no manufacturer ever sought FDA approval for a generic version. One reason may be that the primary indications for the drug — intestinal parasites, neurocysticercosis, and hydatid disease — occur relatively rarely in the United States and usually only in disadvantaged populations such as immigrants and refugees. In late 2010, the listed average wholesale price (AWP) for albendazole was $5.92 per typical daily dose in the United States and less than $1 per typical daily dose overseas.

By 2013, the listed AWP for albendazole had increased to $119.58 per typical daily dose.1 We found that at some pharmacies in Minnesota, an uninsured patient requiring 6 months of treatment would have faced costs amounting to tens of thousands of dollars.
Look at this accompanying chart: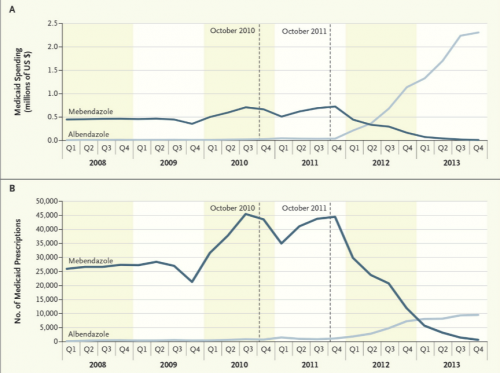 The top chart is Medicaid spending on Mebendazole and Albendazole. The bottom chart is the number of Medicaid prescriptions for those two drugs. While you look at then, consider this. In October 2010, GlaxoSmithKline sold the U.S. marketing rights for Albendazole to Amedra Pharmaceuticals. That just set the stage for October 2011, when Teva Pharmaceuticals stopped making Mebendazole.
These are generics. But once Mebendazole went away, the price of Albendazole went way up. Spending went through the roof, even though the number of prescriptions for this class of drugs was way down.
This isn't the only class of drugs this has happened to. It turns out cornering the market on a generic is a potentially lucrative business strategy. Go read the whole piece.