From the annals of studies that make me sigh, "Numeracy and Literacy Independently Predict Patients' Ability to Identify Out-of-Range Test Results":
Background: Increasing numbers of patients have direct access to laboratory test results outside of clinical consultations. This offers increased opportunities for both self-management of chronic conditions and advance preparation for clinic visits if patients are able to identify te8st results that are outside the reference ranges.

Objective: Our objective was to assess whether adults can identify laboratory blood test values outside reference ranges when presented in a format similar to some current patient portals implemented within electronic health record (EHR) systems.

Methods: In an Internet-administered survey, adults aged 40-70 years, approximately half with diabetes, were asked to imagine that they had type 2 diabetes. They were shown laboratory test results displayed in a standard tabular format. We randomized hemoglobin A1c values to be slightly (7.1%) or moderately (8.4%) outside the reference range and randomized other test results to be within or outside their reference ranges (ie, multiple deviations). We assessed (1) whether respondents identified the hemoglobin A1c level as outside the reference range, (2) how respondents rated glycemic control, and (3) whether they would call their doctor. We also measured numeracy and health literacy.
These researchers got together more than 1800 adults, about half of whom had diabetes. Then they showed them lab results of A1c values randomized to be either slightly or moderately high. They mixed these in with other random lab values. Then they asked them if their A1c level was outside the normal range, what this said about their glucose control, and if they would call their doctor out of concern.
Just over half of participants correctly realized that the A1c was out of the normal range. Those that HAD DIABETES only realized this 56% of the time. A picture is worth a thousand words: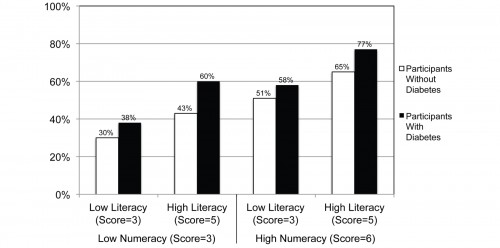 Keep on telling me how giving patients more data is the silver bullet for fixing health care.
UPDATE: Dan Diamond reports on how Amazon is getting into the "give patients more data" game. Nick Bagley accurately notes my response: