Don't even know who thought to study this, but here you go:
In 2001, the American Medical Association identified the need for physicians to become more involved as "advocate(s) for social, economic, educational, and political changes that ameliorate suffering and contribute to human well-being."  Recognizing the process of voting as an elementary step of community involvement, the authors of this article sought to examine the voting pattern of physicians in previous federal elections.

This study compared voter participation rates of U.S. physicians compared to lawyers and the general population in congressional and presidential elections between 1996 and 2002. The sample included 85,000 U.S. adult citizens, including 1,274 physicians and 1,886 lawyers using the U.S. Bureau of Census Current Population Survey (CPS) November Voter Supplements for elections between the years of 1996 to 2002.  The sample was adjusted for the variation in demographics between physicians and lawyers compared to the general population.  Physician voter participation rates were also compared between the years of 1976 to 1982 and 1996 to 2002.  There were 2,033 health professionals over the period of 1976 to 1982 identified (physicians were not identified separately from other health professionals until later years in the CPS).  Multivariate logistic regression models were used to compare adjusted physician voting rates with those of lawyers and the general population in the 1996–2002 congressional and presidential elections.
The results? Doctors don't vote as often as other people do: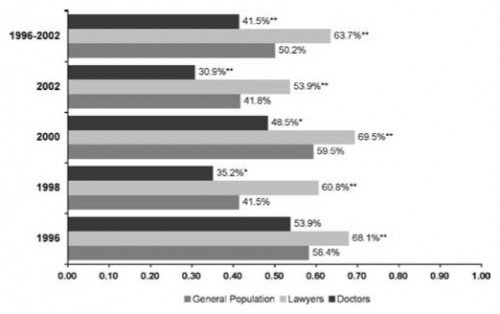 What you're looking at are the adjusted probabilities of doctors voting, compared both to the general public and to lawyers. In 1998, 2000, 2002, and overall from 1996-2002, doctors voted significantly less often than the general population. Lawyers, on the other hand, vote significantly more often than both doctors and the general population. From 1996-2002, about 22% more lawyers voted than physicians. In 2002, less than a third of physicians voted.
Doctors like to complain about how government keeps mucking around in their profession. Maybe they should take a stronger hand in how that government is selected.