It seems to be a stylized fact that substance use disorders (SUDs) contribute to homelessness. Though an association is clear, few studies I've seen are well-equipped to make a causal inference. For it is no doubt also likely that homelessness contributes to SUDs. Below are quotes from studies I've found that consider the causes of homelessness. I thank you in advance for sharing more.
National Coalition for the Homeless. Why Are People Homeless? July 2009.
"The relationship between addiction and homelessness is complex and controversial. While rates of alcohol and drug abuse are disproportionately high among the homeless population, the increase in homelessness over the past two decades cannot be explained by addiction alone. Many people who are addicted to alcohol and drugs never become homeless, but people who are poor and addicted are clearly at increased risk of homelessness. Addiction does increase the risk of displacement for the precariously housed; in the absence of appropriate treatment, it may doom one's chances of getting housing once on the streets. Homeless people often face insurmountable barriers to obtaining health care, including addictive disorder treatment services and recovery supports."
O'Connell MJ, Kasprow W, Rosenheck RA. Rates and risk factors for homelessness after successful housing in a sample of formerly homeless veterans. Psychiatr Serv. 2008 Mar;59(3):268-75.
"Substance abuse has also been identified as a major risk factor for returning to homelessness."
"The greatest risk factor for discontinuous housing was scores at the time of housing on the drug index subscale of the ASI."
"Consistent with previous research in this area, substance use was found to be a major risk factor for loss of housing after successful placement."
"The study presented here used data from a randomized controlled trial to examine the risk and predictors of loss of housing in a population of formerly homeless veterans.
Rosenheck R,FontanaA. A model of homelessness among male veterans of the Vietnam War generation. Am J Psychiatry. 1994 Mar;151(3):421-7.
"Studies conducted during the 1980s [… identified] psychosocial risk factors for homelessness, [… including] have a major psychiatric or substance use disorder."
"In our analysis, we applied structural equation modeling to an examination of the associations between homelessness and several […] factors that prior investigation has suggested are likely to contribute to homelessness."
For fun, here's what that structural equation modeling looks like graphically: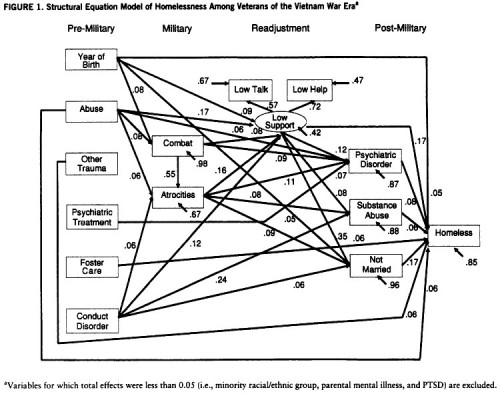 Shelton KH, Taylor PJ, Bonner A, van den Bree M, Shelton KH, Taylor PJ, et al. Risk factors for homelessness: evidence from a population-based study. Psychiatric Services. [Research Support, N.I.H., Extramural]. 2009 Apr;60(4):465-72.
"Our study used a large, representative, population-based sample to evaluate relationships between well-established factors (previously identified in smaller and non–population based samples as potentially important to understanding the etiology of homelessness) and lifetime homelessness status and the relative importance of these factors in the prediction of homelessness."
"A third domain of problems reflected aspects of mental illness and addiction, including […] problems with drugs in the past 12 months (OR=1.16)."
"Factors not associated with homelessness included […] problems with gambling and alcohol."
"Studies examining the onset of psychiatric illness and substance abuse among the homeless, however, suggest that the onset of these disorders preceded homelessness in 70%-90% of cases."
 Perl L. Veterans and Homelessness: Congressional Research Service. 2009June 26, 2009.
No original research, naturally, but a very good review of VA homelessness programs and related statistics.
Goldfinger SM, Schutt RK, Tolomiczenko GS, et al: Housing placement and subsequent days homeless among formerly homeless adults with mental illness. Psychiatric Services 50:674–679, 1999.
"The study reported here compared housing outcomes for 118 homeless mentally ill individuals who were randomly assigned to live in either independent apartments or staffed, group homes."
"Based on earlier research on housing loss and residential instability, we also hypothesized that certain individual characteristics would be associated with number of days subsequently homeless, including […] a history of abuse of alcohol or other drugs."
"Substance abuse was the strongest individual-level predictor of days homeless."
Lipton FR, Siegel C, Hannigan A, et al: Tenure in supportive housing for homeless persons with severe mental illness. Psychiatric Services 51:479–486, 2000.
"A total of 2,937 persons placed in high-, moderate-, and low-intensity housing were followed for up to five years. Intensity reflected on the amount of structure and degree of clients' independence. The outcome variable was tenure in housing."
"The results resoundingly indicate the negative effect that substance abuse can have on the residential stability of homeless persons with serious mental illness in all housing types. This finding is consistent with those of the McKinney demonstration project in San Diego, which found that housing stability was strongly affected when subjects were involved with drugs or alcohol."
Hurlburt MS, Hough RL, Wood PA: Effects of substance abuse on housing stability of homeless mentally ill persons in supported housing. Psychiatric Services 47:731–736, 1996.
"[W]e report data from the McKinney homeless research demonstration project, a three-year study of service provision to homeless mentally ill clients."
"Half of the participants in the study had access to a Section 8 rent subsidy certificate, and half did not. All participants received access to flexible case  management; however, half received the traditional level of case management offered in San Diego County and half received a more comprehensive level of case management."
"Clients reporting no alcohol problems at study entry were 2.04 times more likely to maintain consistent housing in the community than clients with alcohol abuse or dependence."
"Those who reported no drug problems at study entry were 2.66 times more likely to achieve consistent housing in the community than clients who entered the study with drug abuse or dependence."