"Dystextia" is a thing. And, in at least one case, it aided diagnosis, as reported by Arvind Ravi, Vikram Rao, and Joshua Klein in JAMA Neurology:
A healthy 25-year old right-handed pregnant woman [] was brought to the emergency department after sending her husband a series of confusing text messages regarding their baby's due date.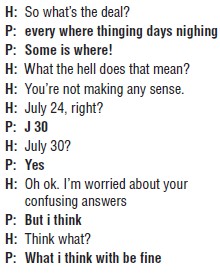 Diagnosis: acute ischemic stroke. A very few bizarre texts may not be chemically induced or the result of butt dialing.