The RWJF has released a report documenting the change in emloyer sponsored health insurance coverage across the US:
A report from the State Health Access Data Assistance Center (SHADAC) at the University of Minnesota shows the percentage of nonelderly Americans who get their health insurance through their jobs declined eight percentage points in a decade – from 69 percent in 1999/2000 to 61 percent in 2008/2009, the most recent years data are available—with low- and moderate-income families hardest hit. Recent analysis from the Urban Institute finds that the Affordable Care Act (ACA) will likely help stem this decline, especially among small businesses.

The SHADAC report, State-Level Trends in Employer-Sponsored Health Insurance, shows 7.3 million fewer people have ESI than approximately one decade ago.

"For 60 years, American businesses have been the conduit to health insurance for most families, so this decade-long decline in ESI is troubling" said Risa Lavizzo-Mourey, M.D., M.B.A., president and CEO of the Robert Wood Johnson Foundation. "Policy-makers must work hand-in-hand with business leaders and insurers to make certain that this pillar of health insurance doesn't further erode."
Here's a key figure from the report: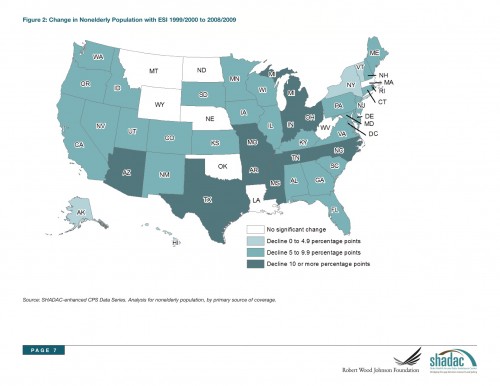 So, essentially, the best a state could hope for was to remain steady over the last decade. But the vast, vast majority of states saw coverage by employer-sponsired insurance decline. In many states, coverage declined more than 10%.
Does that sound like a good time to decrease safety net coverage?