Peter Gosselin of Bloomberg:
Competition among insurers offering coverage through federal exchanges established under the Affordable Care Act is driving down the premiums charged in the new marketplaces by as much as one third, according to a Bloomberg Government analysis.

The analysis of rates for individual policies in the 36 states where the federal government will run or largely run the exchanges shows an unmistakable pattern: The larger the number of insurers operating in a given market, the lower the price of coverage. […]

Rates released by the Department of Health and Human Services (HHS) show that the price of policies offered in "rating areas" with 10 or more participating insurers are between 31 percent and 35 percent lower than those for the same policies in areas with only one issuer.

A preliminary review of rates in the remaining 14 to 16 states and the District of Columbia that will run their own exchanges suggests that a similar pattern holds in most.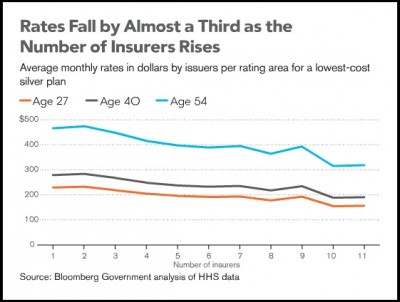 Granted, the analysis does not control for other factors that might be correlated with both market structure and premiums. For one thing, the market structure of providers may matter. A dominant, must-have hospital system might command higher prices and engage in exclusionary contracting with insurers, simultaneously driving up premiums and reducing the number of insurers that can play in the market. This is speculative, but you get the idea. Other stuff may matter.
Trust me, we'll be seeing many more studies of the new marketplaces in the coming years, both crude and sophisticated. This is a worthwhile and provocative first look.