Unless you've been living in a snow cave for a month, you've heard about Boston's very (very, very, very) snowy winter, which is breaking all kinds of records. Last night and into today, we got another foot or so, on top of the six or so dumped over the past three weeks. The snow accumulations just went from amazing to unfathomable.
I was already in awe of the snow before the latest dump. Snow banks towering over cars is one thing, but massively thick ones that reduce two lane roads to one are another. The standard line is that we have nowhere to put more snow. Even I've said as much, but it wasn't really true at my house. I still had ready capacity … before today.
I just came in from over four hours shoveling roofs, walkways and the driveway. (According to MyFitnessPal, I burned over 2,000 calories doing so. I'll be eating a lot today.) And, that was aided by a Bobcat. I don't know where it came from or who was driving, but it saved me several hours of work on the driveway. I only needed to scrape down to asphalt and clean the margins.
That was hard enough. To make new capacity, I had to snowscape the big pile in front of my garage. I climbed up it on snowshoes to push snow off the top to make room for more.* To more easily deliver new snow to the top, I built some stairs by pounding in long two-by-fours.
With this much snow, I had to cut some corners. I closed our front steps. Though we could still get down in an emergency, they're no longer ready for regular traffic or deliveries.
The snow is level with the bottom of some of our first floor windows. I can walk right up to the edge of our garage roof. The driveway is passable, but barely. The avalanches off our solar panels are thunderous. Keeping the hot water heater and furnace vents clear is a daily job. (On the plus side, though they don't melt the snow directly beneath them, they do so a few feet out, making room to stuff in more snow.)
More snow is in the forecast. I have only one more place to put it: inside the garage itself. I just might.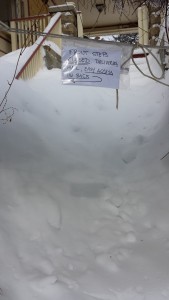 * The pushed snow dumps into the neighbor's driveway, but a portion they said they're not going to use. Their second car buried there won't move for months. (It's also where I push garage roof snow.)