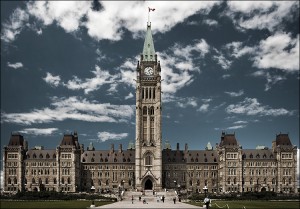 My wife and I recently moved to work at a hospital in Ottawa. These are interesting times for Ontario hospitals and health policy researchers may wish to watch.
First, a bit of Canadian health policy 101: Canada doesn't have a health care system. Each province has its own system. There is federal legislation that defines global principles that provincial systems need to follow and there is some inter-provincial cost sharing. But the provinces largely fund their own care systems, set their own budgets, and determine their own health policies. If you like decentralized federal systems with weak central governments, Canada is your nation.
In the US, hospitals generate revenue when they provide a service to a patient either by billing the patient or the insurer. In Ontario, the hospital is allocated an annual budget. The hospital is then expected to care for whoever shows up with a valid health insurance card. So how that annual budget is determined is critical.
In the past, Ontario hospital budgets were set using a process called global budgeting.
Hospitals in Ontario receive money from the Ministry of Health and Long-Term Care via the Local Health Integration Networks. Each hospital's allocation is determined by historical spending patterns, inflation and one-off negotiations between hospital executives and civil servants. Global budgets provide stable funding but do not provide financial incentives for increased efficiency.
Global budgeting is based on the hospital and its needs, not the patients and their needs. So the incentives were set to support each hospital doing whatever it had been doing. A recent provincial law changed that. Now, 30% of funding is globally budgeted and 40% is based on a Health Based Allocation Model (HBAM). The HBAM makes a budget projection based on the patients that the hospital is expected to see, their demographics, and their medical complexity. The remaining 30% of funding is based on incentives tied to quality of care.
I support the principles that hospital budgeting should provide incentives to improve efficiency and quality of care. Mais le bon Dieu est dans le détail and to my knowledge not all of the details of these funding formulae are public. Moreover, the slope of change here is steep. The change in funding has occurred in just the last three years. Can hospitals change practice that quickly? What happens if they can't?
This should be an interesting natural experiment for health policy students. I get to watch this from the inside of an Ottawa hospital and will report from time to time on TIE. For real experts, follow Irfan Dhalla (@IrfanDhalla) and Karen Born (@BornK) on Twitter.
You'll find previous TIE writing on Canadian health care here. And watch Aaron's Health Care Triage episode on Canada.