Austin sent me the link to the latest Health Care Cost Institute Utilization Report. It's only fair that I share my depression with you.
There's been a lot of trumpeting about how health care spending has been slowing. Some attributed that to the economy, others to the ACA. Some of us, on the other hand, have been more skeptical. I hate it when cynicism is rewarded. Here's a sampling of the bad news:
Per capita health care spending for under-65 year olds with employer based insurance went up 4.6% to $4547
Per capita health care spending for children went up 7.7% to $2347
Per capita out-of-pocket spending went up 4.6% to $735
Surgical admission average facility price went up 8.5% to $29,858
Emergency room average facility price went up 5.4% to $1381
Here's a nice graphic from the report: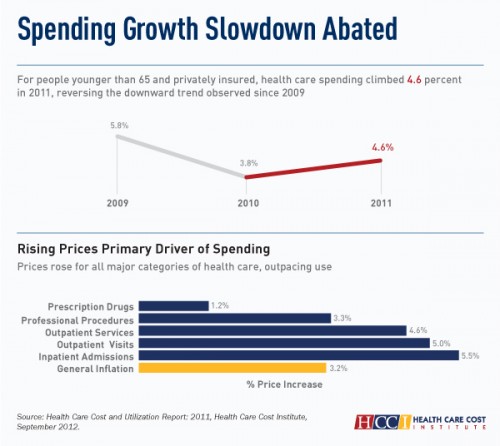 The yellow line at the bottom there is inflation. As you can see, most sectors of health care spending went up faster than inflation. The only thing that went up more slowly is spending on prescription drugs. That's almost entirely due to generic drugs, though. The average price of a generic prescription dropped 7.2%, while the average price of a brand name prescription went up 17.7%. Overall, though, we're using more generics and fewer brand-name drugs.
Did your paycheck go up 4.7% last year?