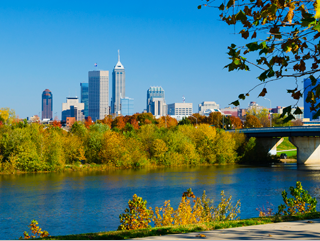 Are you interested in Children's Health Services Research? Please join us for the 4th Annual International Children's Health Services Research Symposium in Indianapolis, Indiana on April 18-20, 2016! This symposium brings together pediatric health services researchers and fellows from across the country and the world for a series of talks by luminaries in the field, as well as new talent, in a forum that emphasizes lots of time for conversation and networking. This year's topic is Pediatric-focused health information technology
The CHSR symposium will take place over and two and a half day period and will include poster presentations, breakout sessions to assist with career development, and more. It will be held at the Health Information and Translational Sciences Building at Indiana University School of Medicine, located on the downtown Indianapolis canal.
In addition to the regular sessions we will have Special Interest Group dinners on the first night hosted by faculty members at Indiana University School of Medicine and a gala event at the Indiana State Museum on the second night.
The event is limited to 100 people. You can be one of them!!!
You can check out the final schedule here.