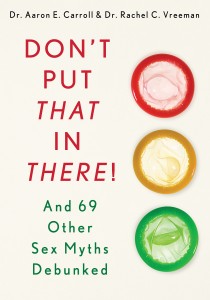 When we wrote our first book on medical myths, people asked for more sex myths. When we wrote our second book, more people asked for sex myths. So we finally capitulated. We wrote a whole book on sex myths:
People have more access to medical information than ever before with an abundance of printed and online resources, and yet we still believe "facts" about our bodies and sexuality that are just plain wrong. Don't Put That in There! takes on these myths and misconceptions, and exposes the truth behind some of those weird and worrisome things we think about our bodies, such as:

•The average penis size is seven inches
•Squeezing breasts is all fun and games
•You shouldn't have sex before the big game
•Anal sex will give you cancer
•Two condoms are better protection than one
•Pubic hair doesn't turn gray
•Sex can give you a heart attack
•Only men have wet dreams
•You can't break your penis
•You can run out of sperm

With the perfect blend of authoritative research and a breezy, accessible tone, Don't Put That in There!is full of enlightening, practical, and quirky facts that will debunk some of the most perennial misconceptions we believe about sex and sexuality.
As with all of our books, we don't just tell you the answer. We take you through the research and explain why science says these things are myths. You'll learn, and you'll get to be the smartest person at parties.
Plus, if you buy a copy, then you'll make it even more likely I'll have to go on answering questions about sex and sexuality in public. I have been told by friends – repeatedly – there is no better entertainment than watching me squirm while I do so.
Here's a nice review from Publisher's Weekly. It's also been featured in the NY Post, and on Slate. I'll post more media as I see it.
You can get the book at any major bookseller, including these. Click on any of them, and buy a copy. Please!