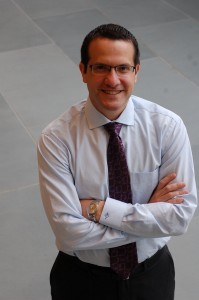 Aaron E. Carroll, MD, MS is a Professor of Pediatrics and Assistant Dean for Research Mentoring at Indiana University School of Medicine. He is also the director of the Center for Health Policy and Professionalism Research. He earned a BA in chemistry from Amherst College, an MD from the University of Pennsylvania School of Medicine, and an MS in health services from the University of Washington, where he was also a Robert Wood Johnson Clinical Scholar.
Aaron's research focuses on the study of information technology to improve pediatric care and areas of health policy including physician malpractice, the pharmaceutical industry/physician relationship, and health care financing reform. He is also the co-author of Don't Swallow Your Gum: Myths, Half-Truths, and Outright Lies About Your Body and Health, published by St.Martin's Press. His work has been featured in The New York Times, USA Today, The Los Angeles Times, Newsweek, and many other national publications. He has appeared on Good Morning America, CBS Evening News, ABC News Now, and The Colbert Report. He's a regular guest (usually on Wednesday at 8AM) on Stand Up! with Pete Dominick, which airs on Sirius/XM radio, channel 104 from 6-9AM Eastern.
You are welcome to "friend" Aaron on Facebook or follow him on Twitter, where he talks about a lot more than health policy.  You can also email him.
(The views in Aaron's posts represent his views only.  They do not represent  the views of Indiana University, any funding agencies or foundations,  any organizations, or especially any of his friends or family.)
For speaking inquiries, contact Jo at Speakers on Healthcare or 800.697.7325